August 8, 2020
How did you learn about Mary MacKillop?
Maybe it was a book read, a movie, or a visit to a museum. However, thousands of people every year, do none of these things, but do go GEOCACHING! Geocaching is the world's largest treasure hunt and it can lead you to a journey through the story of Mary MacKillop.
In 2000, when GPS became widely available, a man named Dave Ulmer hid a container, called a cache, in the woods. He noted the co-ordinates of his hide and spread the news to his friends. The first person to find it using a GPS could keep what was hidden in the cache. He also put inside the cache a piece of paper, so that friends could leave their names as finders, even though they didn't get the prize.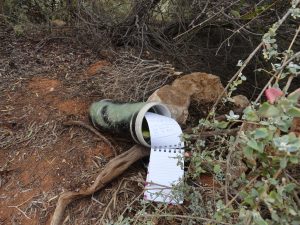 This was the beginning of a worldwide game called "Geocaching." Friends of Dave went and did their own hides for other friends to find, and consequently many more joined in the fun. In fact, there are now 7 million people looking for more than 3 million caches hidden across the world. And over 150 of those hides are placed at significant sites of the Mary MacKillop story.
Each 'hide' in Geocaching has a page on the website with a story about the hide, clues (e.g. size of the container and other hints like, "in a tree") and a map to find it. When someone finds the hide, they leave their name on the paper inside the cache and type a message on the website.
The first hide for the Mary MacKillop cache series was hidden at Mount Street, North Sydney near the site of her burial place. The hides have now extended to be in all states and territories, as well as New Zealand, Ireland and Scotland. Caches are now near Museums for Mary MacKillop, schools, Statues,  Plaques, streets and parks all connected to Mary MacKillop's story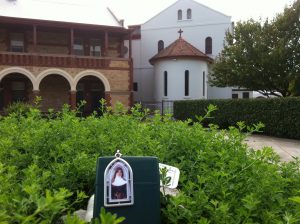 People from all over the world are discovering these hides and learning about Mary MacKillop. In many cases, they had not previously heard of her story. Unlike books, geocaching allows for a physical adventure to places of significance in Mary's life. Posts on the website by finder's attribute to this…
MacKillop sure got around didn't she? Amazing in that day and age, its a long haul even today with a car! And I love the work she did. Thanks for bringing us here and the hide. Another Mary MacKillop ticked off the list.
I have travelled this road to work for many years. Never knew Mary started this school in my town.
So, if you would like to know more about Mary MacKillop you could read a book, surf the web or visit one of the museums. Alternatively, download the Geocaching App on your iPhone (or visit the website), hit the 'find a geocache' button and follow the directions.
A great way to do a pilgrimage… no bookings required!
Happy Geocaching!
Watch a video explaining geocaching here
Julianne Murphy rsj