March 8, 2020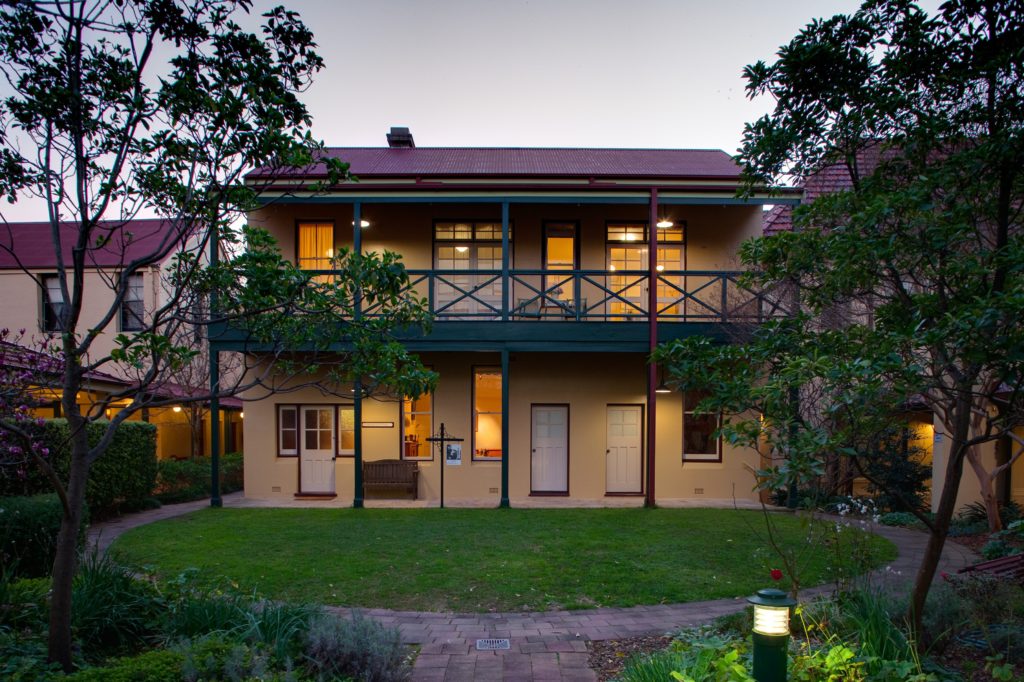 An 1880's map of St Leonards by Higginbotham and Robinson identifies the future site for the first novitiate in Sydney (the original was in Adelaide, South Australia) for the Sisters of Saint Joseph in Alma Lane, North Sydney.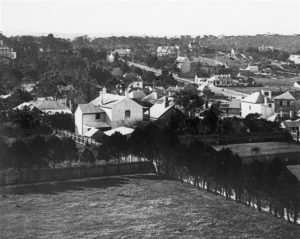 St Leonards, later known as North Sydney, has a complex and rich history in the founding of the early Catholic community, which underpins the story of the arrival of the Sisters of Saint Joseph to Mount Street in 1884.
The Sisters of Mercy, Loreto Sisters and the Marist Brothers, Jesuits and The Grail all served the community's educational and social needs at the time of the arrival of the Sisters of Saint Joseph.
On 19 March 1884 the formal opening of the novitiate for the Sisters of Saint Joseph in Sydney was celebrated.
The establishment of the new novitiate in the unassuming two storey stone cottage, originally built in 1855, was due to the generosity of Dean John Kenny a seminary companion of Alexander MacKillop, Mary MacKillop's father. The two men met during their stay in Rome.
Dean John Kenny's parish work (1867-78) included St Leonards where he was responsible for the building of the first stone Catholic church, St Mary's Church, Ridge Street, North Sydney, which was opened in 1868.
The history of Mary MacKillop Place begins with the purchase of this cottage (now known as Alma Cottage) by Dean Kenny from John Whitton, a Chief Civil Engineer, in August 1867. John Whitton oversaw the massive expansion of the railways across the state from 1856 to 1890. Records indicate that Dean Kenny resided in this cottage from the mid-1870s onwards.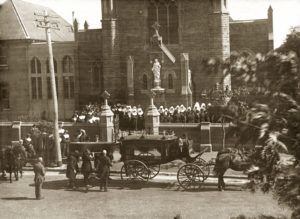 It was during this time that the Marist Brothers opened in 1888 St Mary's School (next to St Mary's Church), which would be later staffed by the Sisters of Saint Joseph in the early 1900s. The Sisters produced a network of practice schools for young novices including the Ridge Street School which became known as the 'Practice and Demonstration' School.
After Dean Kenny's death his legacy of bequeathed property to the Sisters of Saint Joseph secured the Mount Street location as a significant site for pilgrims to this day.
The Land and Property Management Authority produced an informative booklet in 2010, the year of Mary MacKillop's Canonisation, entitled 'Mary MacKillop (1842-1909) Records of a Saint.' This booklet details the 'Old System deeds' and shows how the Order gradually acquired land over time, including the purchase of land from the trustees of Reverend John Kenny who in 1887 sold Number 2 Alma Terrace for 1,000 pounds.
In April 1890 the Congregation purchased Number 1 Alma Terrace. The original deeds include those personally signed by Mary MacKillop and were held in trust for a 'Convent or Residence for the Sisters of the Religious Community of Women known as the Sisters of Saint Joseph of the Sacred Heart at Mount Street North Sydney.'
Continue reading the article below:
History in the Making – Mary MacKillop Place (PDF)
Edwina Huntley
Museum Curator
Mary MacKillop Place