April 7, 2019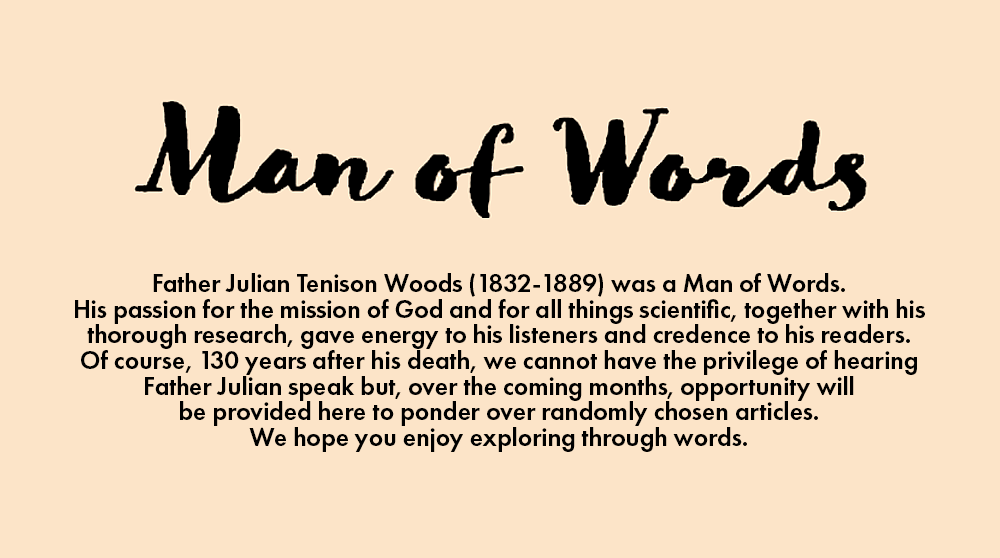 On 21 May 1887, the Sydney Morning Herald [i] published an article by Fr Julian Tenison Woods on his trip to the Victoria River.
This river (named for Queen Victoria) runs from the northern edge of the Tanami Desert to the coast near the Western Australian-Northern Territory border.
Father Julian obviously enjoyed his trip in 1886 and gives his readers historical and geological background about the river and careful descriptions of all he saw along the way. He describes the river as strangely impressing him, having a beauty of its own and that is high praise considering all the rivers he had travelled in his lifetime.
I was particularly taken by Father Julian's description of being on watch as the sun set and darkness fell. His words express such a vivid picture that I'm sure any reader with artistic skills could translate them into a painting.  Similarly inspiring are his words about the many shades of red in the rocks.
It is interesting to note that another description of a trip to the Victoria River was published in the Northern Territory Times and Gazette on 4 May 1889 [ii]. In this, Mr Alfred Searcy gives a very similar account of the dangers of navigating the river. Searcy travelled in the same boat with the same captain and mentions that Rev J E Tenison Woods had also done this trip.  He gives a great description of an eagle capturing one of the thousands of flying foxes roused out of the mangroves.
I haven't been to the Victoria River but, for those who have, it might be interesting to compare both of these descriptions with the experience of sailing along it today.
Carmel Jones rsj
---
This month, we present a third article written by Fr Julian featured in the Sydney Morning Herald on 21 May 1887:
Download 'A Trip to the Victoria River' (PDF)
Footnotes:
[i] Article: Sydney Morning Herald (NSW: 1842-1954) Saturday 21 May 1887 page 6 obtained from the National Library http://nla.gov.au/nla.news-article13660549
[ii] Article: Northern Territory Times and Gazette (Darwin, NT: 1873-1927) Saturday 4 May 1889, page 3 obtained from the National Library http://nla.gov.au/nla.news-article3314894