June 7, 2019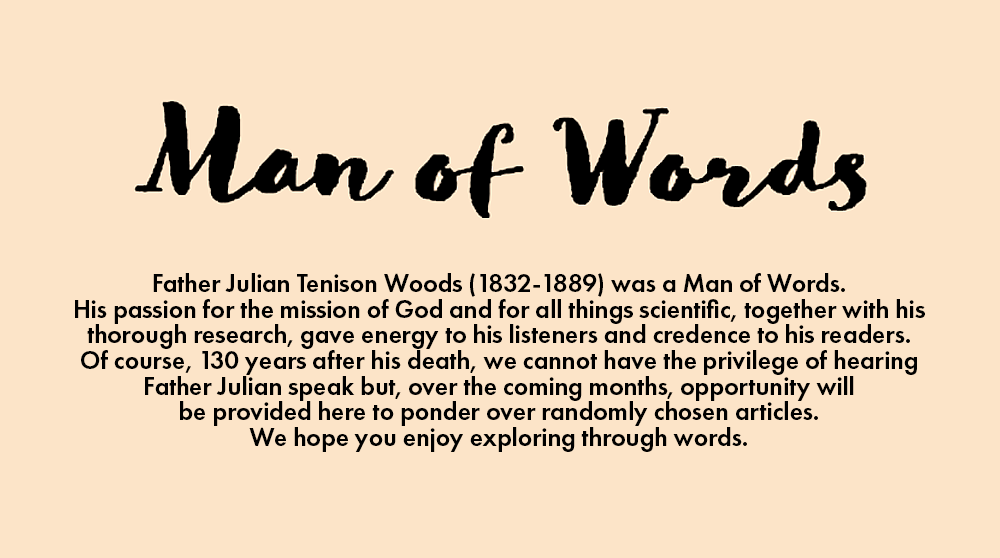 This month's contribution is a tribute to the friendship between Father Julian Tenison Woods and Adam Lindsay Gordon, Australian poet, jockey, police officer and politician. Gordon died, at the age of 36, on 24 June 1870 in Melbourne.
Father Julian Tenison Woods met Adam Lindsay Gordon in 1857 on one of his first trips out from Penola riding from station to station across his huge, scattered parish. At that time Gordon was a horse-breaker on a station near Guichen Bay. The two shared a love of poetry and the classics and often rode together reciting to each other. They seemed to find in each other a kindred spirit based on literary enjoyment and entertainment. Woods lent Gordon books from his collection.
In 1865, with Woods' encouragement, Gordon was elected in the South Australian Parliament, being appointed as the member for Victoria, but after eighteen months he resigned and returned to writing poetry and competitive riding. When news of Gordon's death reached Woods he recalled a conversation he had had with his friend, one that made a deep impression on him and explained somewhat the melancholy mood that Gordon often lived with.
Woods then wrote Personal Reminiscences of Adam Lindsay Gordon and this was published in the Melbourne Review in April 1884.[i] The Melbourne Review (1876-1885) was a quarterly magazine founded by a group of literary gentlemen as a serious attempt to establish a superior kind of periodical on general and literary topics, including poetry.
This month's contribution to Man of Words gives quotations from Personal Reminiscences of Adam Lindsay Gordon and references to other relevant articles for the reader to peruse. These give an insight, not only into the life of a great Australian poet, but also into the literary mind of Father Julian.
---
This month we present quotations from Personal Reminiscences of Adam Lindsay Gordon and references to other relevant articles:
Download 'Quotations from Fr Julian Tenison Woods' (PDF)
[i] The article can be obtained through the National Library of Australia.  Details are as follows: Personal Reminiscences of Adam Lindsay Gordon  Julian Edmund Tenison Woods, 1884 in Melbourne Review, April vol. 9 no 34 1884; (p. 131-141)