August 7, 2023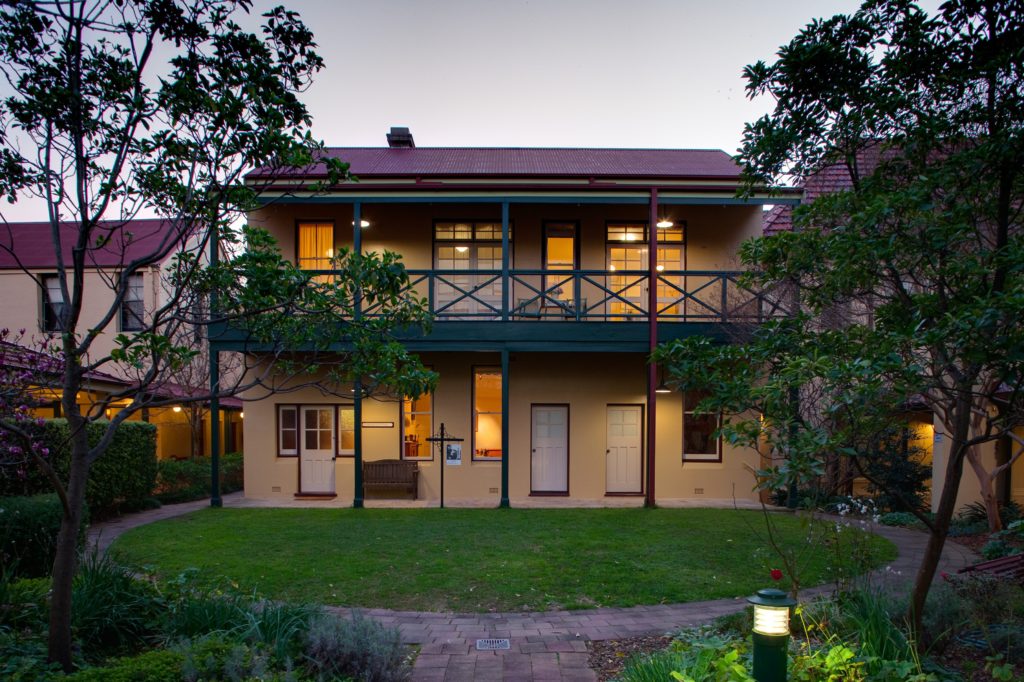 I consider I have this day assisted at the deathbed of a Saint.
[1]
We know that a saint is someone whose life is lived in intimate union with God, and for God, accepting God's will in all events of life. (One's life is examined to be considered worthy by the Church to be honoured and imitated). This is what Mary tried to do throughout her 67 years of life, and she also urged her mother Flora to be a saint.[2]  Living holy lives would seem to be in the DNA of the MacKillop family, as their lived history demonstrates.
Her [Mary MacKillop's] death will bring many blessings, not only on yourselves and your Congregation, but on the whole Australian Church.
[3]
What led Cardinal Moran to express these sentiments, voiced in the presence of several Sisters, as he exited Mary's room in Alma Cottage, North Sydney? Cardinal Moran could recall his own interactions with Mary over many years of strained relationships regarding authority, governance, the Constitutions, Central Government, her deposition from leadership and many other issues. He knew of Mary's strength of character, acceptance of God's will and complete selflessness and self-control, almost always uncomplaining, even-tempered and approachable in the work of the Congregation for the poor and marginalised.
The first requirement prior to canonisation concerns the virtues of a person, where human evidence is gathered to show that the candidate lived these virtues to a heroic degree, tested by the pressures of life, and still seen to be genuine. "Endurance has shown them (Mary's virtues) to be rock solid".[4]
Many pioneer Sisters who knew Mary from living in community with her, as well as 39 who recorded their memories, declared that, from their observations, Mary's kindness was the most outstanding quality of her life in dealing with others. She truly lived the Gospel message of love under all circumstances. One Sister stated that "she seemed to have the best interests of her Sisters at heart, never sparing herself in any way".[5]
Mary's personal life exhibited her deep groundedness in spirituality. "Her letters, instructions and meditations written for the sisters revealed… the spirit of piety and other virtues… I can testify to her… goodness", wrote one Sister. [6] "She was a model of regular observance to us all. She so arranged her business that it never interfered with her spiritual duties", wrote another.[7]
Mary gained strength to live heroically from her deep intimacy with Jesus. She wrote: "When storms rage… I quietly creep into Its abyss (Sacred Heart) and securely sheltered there my soul is in peace…"[8]  She accepted all as coming from the loving hand of God, living constantly in His presence and depending on His generous Providence. After the horror of her invalid excommunication, she could write: "… I felt nearer to God than I have ever felt before… the calm, beautiful presence of God I shall never forget."[9]  Only one who has experienced such intimacy could describe it thus! "Mary's faith and mysticism were well balanced between compliance with Church authorities and self-determination", wrote Professor T Lovat.[10]
Throughout her life and particularly when she encountered so much opposition regarding Central Government, in many dioceses, Mary steadfastly maintained serenity in her quest to provide education to outback children. She would never tolerate a negative word being said against any priest or bishop whom she revered as the anointed of God and urged her Sisters to put kind constructions on their behaviour or remain silent.
Mary's example of tenacity, courage, forgiveness, kindness and deep prayerfulness are values that should inspire us today to keep our focus on Jesus as we live within the confines of our Church with today's many issues.
From Rome, Mary urged the Sisters "to preserve the spirit of unity, love and charity amongst us. Let it be the individual call of each one… to see to the cultivation first in your own heart, and then by your example…" [11] Mary's life draws from Jesus, the source of grace, and calls us to live our lives intimately with God for the enrichment of others.
Our everyday life, especially as we age, can be modelled on the patient endurance in love of our world's Saint, Mary of the Cross, who prayed in her last letter: "That God may ever bless you and make you more and more God's own is the fervent wish of your fond mother in JMJ [Jesus, Mary and Joseph]."[12]
May we strive ever more intently to live into Mary's prayer, and "let us refuse nothing to God's love!"[13]
Connie Cummings rsj
Footnotes:
[1] An Extraordinary Australian, Mary MacKillop, Paul Gardiner SJ, EJ Dwyer, Pg 479
[2] Mary MacKillop and Flora, edited by Sheila McCreanor, Sisters of St Joseph. Pg 49
[3] An Extraordinary Australian Mary MacKillop, Paul Gardiner SJ, EJ Dwyer, Pg 479
[4] The Virtues of St Mary of the Cross…' Paul Gardiner SJ, St Paul Publications, Strathfield, Pg 7
[5] Memories of Mary, SSJ, John Garratt Publishing, 2010, Pg 59
[6] ibid. Pg 60
[7] ibid. Pg 63
[8] Circulars to the sisters, re the Sacred Heart, SSJ, 1976, Pg 247
[9] An Extraordinary Australian, Mary MacKillop, Paul Gardiner SJ, EJ Dwyer, Pg 105
[10] Mary MacKillop Inspiration for Today, Edited by Pauline Wicks, Sisters of St Joseph, Pg 102
[11] From Monastero della Compassione Rome, 16 May 1873
[12] Circular to the sisters, 19 March 1909
[13] Circular to the sisters, 18 Septetmber 1906