August 6, 2019
This month of August, during which we celebrate the 110th anniversary of Saint Mary MacKillop's death, is a timely reminder that all of us are called to be saints – here and now!  Mary understood this – and her entire life reflected this understanding.
In 1870, as an earnest 28 year-old, Mary shared her insights about living saints with her 'own dear Mamma':
…Do you try now in real earnest to be a saint?  You may smile at my question, but our dear good God wants you to be one! I used to think it the height of presumption to desire such a thing, but have been taught that such diffidence is not humility…
Little could the youthful Mary have every imagined that she would become Australia's first canonised saint so many years later!
In this month's reflection from the Little Brown Book Too, the authors, Sue and Leo Kane, provide us with another reminder that Earth is meant to be full of living saints, and that our 'Sainthood comes in moments'.
Love one another and bear with one another and let love guide you in all your life.
Sister Ethelberga, Mary's nurse, said of her: 'I never knew her to speak an unkind word to anybody. Neither would she permit any Sister to do so in her hearing.'
As we go about our days, we teach, not so much by preaching lessons, as by the way we are in this world. Our way of seeing things and people will come through in our responses. Mary knew this instinctively:
We must teach more by example than by word.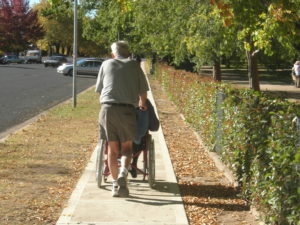 A very young Sister Laurence (who later became the third Superior General of the Sisters) once said to Mary: "Mother,  I think you are especially kind to people who give you trouble and worry." "Ah, you little rogue!" was the lovely reply of a compassionate and human Mary.
Sainthood comes in moments: of gentleness, of humour, of kindness, of times when we choose to do the loving thing.  And for our 'companions on the journey', such moments help to keep their hope alive.
If we love one another, God lives in us…
---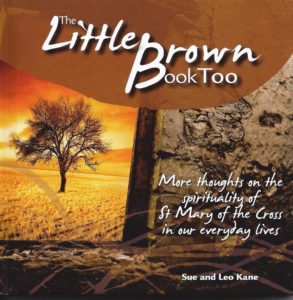 The above is an extract from The Little Brown Book Too (pages 32-33)
© Sue and Leo Kane 2011. Introduction Mary Ryan rsj.
Used with the kind permission of the publishers, St Paul's Publications
Available online and from some Mary MacKillop Centres.
---
Download the print version of this reflection (PDF)