October 11, 2021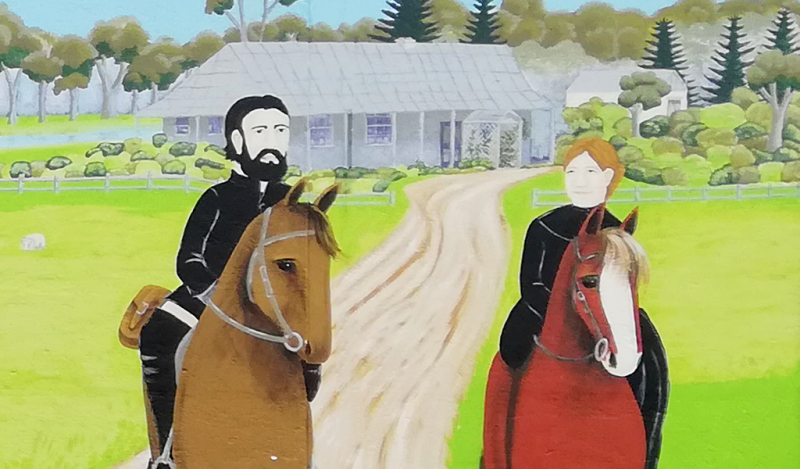 Each year we recall Julian Tenison Woods on the 7 October anniversary of his death and laud his talents and deep spirituality. While Mary and the early sisters didn't readily express their attachment to Julian's eco-spirituality in writing, I am certain that his vision brushed off on them and that they shared his wonder at God's creation.
We read that, "Mary took a broad view of his activities, not restricting her interests to his spiritual ministry. Her selection of quotations from his writings reveals not only his fine literary style and the variety of his interests, but also her own eye for colourful detail and the natural works of creation." [1]  Mary, like Julian, enjoyed the outdoors and was a fine horse rider.
The lives of Mary MacKillop and Julian Tenison Woods give us an insight into the compassion, sadness, brilliance and holiness of which people are capable, the ups and downs of ordinary lives lived in an extraordinary way.
The correspondence that flowed between them attests to their enduring friendship. It was with deep disappointment that some events caused a rift in their friendship and relationship with the Order. I have felt there must have been a desire to rectify their friendship, which while not always visible must have remained a constant.
When Julian fell ill after his various missionary activities, Gertrude Abbott and other former Josephites cared for him during this vital period.
Mary remained faithful and when she heard of Julian's serious illness, she went to see him. She often sent strawberries during this time of great suffering.
At the request of Mother Bernard, Mary wrote to the sisters after Julian's death:
"I ask you my dearest sisters, one and all – those who knew him personally and those who have only heard of him – to remember that he dearly loved the Institute and that he wished to see the sisters humble and full of charity towards each other." [2]
Mary's devotion and friendship with Julian led her to establish an oratory at Mount Street, North Sydney in Julian's honour. She also wished that an account of his life would be recorded and wrote Julian Tenison Woods: A Life. Despite their rift, our co-founders Mary and Julian have left us a splendid legacy that is continued by the charism and their example.
Reflection
Mary valued friendship in her life and remained faithful even in difficult times.
Reflect on the relationships in your life.
Recall times of misunderstandings
Are there times when 'strawberries' help?
Recall examples of faithfulness in your everyday life.
Pray with Mary.
Michele Shipperley rsj
[1] Gardiner, P. (1993) An Extraordinary Australian Mary MacKillop, EJ Dwyer (Australia) Pty Ltd, p 369.
[2] Ibid. p 371