January 19, 2021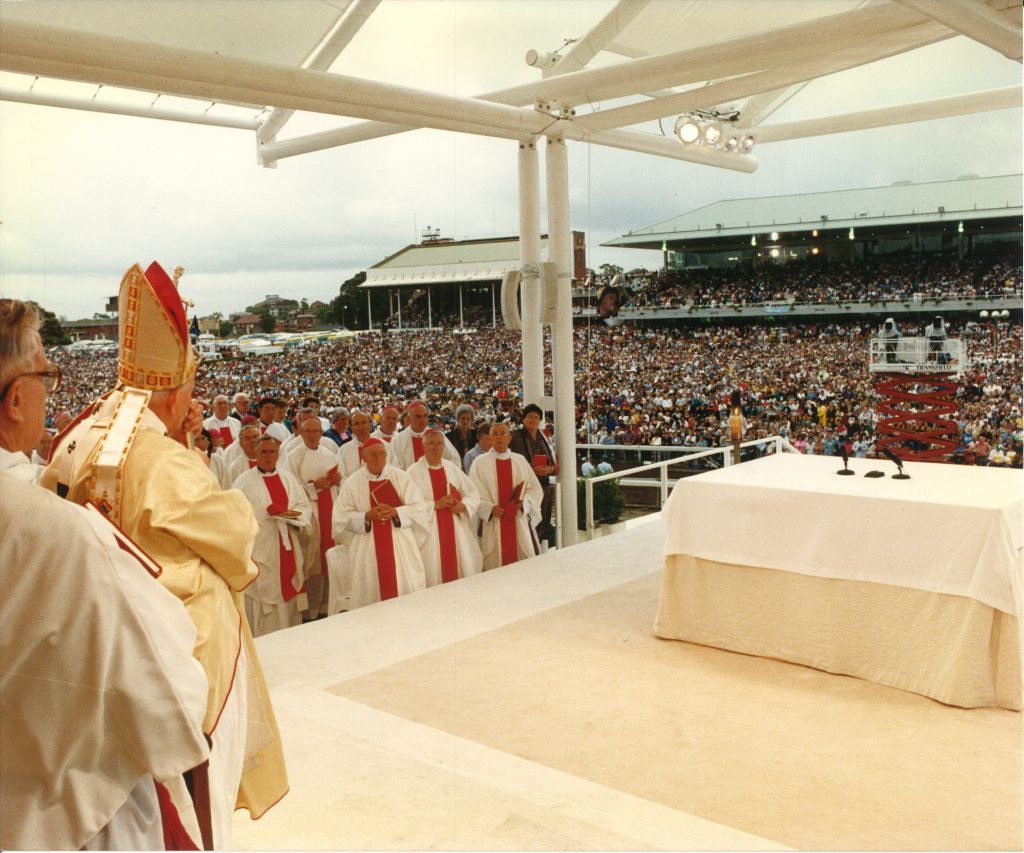 Mary's Beatification Mass Remembered.
Mary's Beatification stirred the hearts and minds of all Australians. As a first for this nation, everyone had to learn what beatification was all about. At the time I remember hearing of people talking about Mary's beautification. That sounded so funny at the time and highlighted the need to understand further what beatification was all about. While there was no need for any further beautification of Mary, beatification gave her the title of Blessed and named and claimed her as a holy one, whose living of the Gospel, provided great inspiration and hope for all Australians and beyond.
I remember well, sitting high up in the stands at Randwick Racecourse watching the dozens of buses drive in to drop off the thousands of people who gathered to celebrate Mary. It was wonderful that we her Sisters, sat where we liked that day. We were all there as one, honouring and celebrating our Aussie sister. Such excitement amid the mud and slush.
I think Mary MacKillop would have been tickled pink that her Beatification Mass was held at a racecourse. After all, she was a horse woman and a true-blue Aussie. From her living in country places, Mary would have known well the significance of racecourse gatherings. Such events providing the opportunity to reconnect, network, to play, to dress up, to celebrate and to back a winner.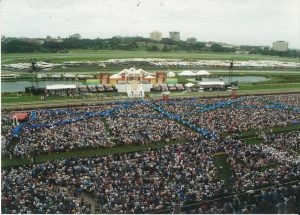 On 19 January 1995, Randwick Racecourse provided thousands of ordinary Aussies with a similar opportunity – everyone was there to back a winner, our Mary. On that day we acknowledged one ordinary Aussie woman's holiness. A holiness grown and developed in her living her everyday life – her very ordinary Australian life and through some extremely tough times. She was and remains a true witness to God's everyday invitations to her to choose life in all situations. This sparked great hope for all that day at the racetrack. The inspiration she gave assured us that in following her example we too could live lives of holiness. A holiness, not borne of great piety, but one emerging from finding and knowing God in the ordinary of everyday life.
I recall a time years later, when gathered with visitors from overseas around Mary's tomb, when one visitor thought that the humble little chapel where Mary was buried, was not good enough for a saint and suggested we should build a Basilica for her. We all agreed that Mary would certainly not want that, and neither would we. She knew her God well in the groundedness of the ordinary – the classroom, the kitchen sink, the saddle of a horse, difficult family discussions, exclusion by those in authority and the 'racetracks' of life.
While she is held high as an exemplary model of Gospel living, she no doubt will accompany us on our journey as we remember her words:
There where you are you will find God.
Annette Arnold rsj
Photos:
Pope John Paul II to Australia for the Beatification of Mary MacKillop during Mass at Randwick, 19/1/1995. [L'Osservatore Romano Citta' Del Vaticano, Servizio Fotografico, (Fotocronista A Mari)].