May 8, 2020
The over-arching news these days concerns the impact of Coronavirus (COVID-19) on each of us.
Panic abounds as a result of a plethora of notices from government, local agencies and many others. Frequently, there has been pandemonium in shopping centres where an atmosphere of virulent fear results in panic buying and hoarding. Often panic leads to a focus on someone or something inane.  In this pandemic the panic lead to shortages of goods, most surprisingly toilet paper. Who would have thought that the search for this particular, usually insignificant, item would have called forth the best and worst in so many people! In addition to dealing with shortages, there has come into being serious limits to our right to move freely, to go about normal business. In varying degrees, we are forced to live in isolation which engenders fear as well as pain. Conversely, isolation can breed its own joys and creativity.
Easter week reminded us powerfully of pain, isolation and fear all embodied in the women who went to the tomb. The Angel told them "do not be afraid!" Their pain gave way to hope and, later, joy in knowing that Jesus had risen, was alive and had visited them.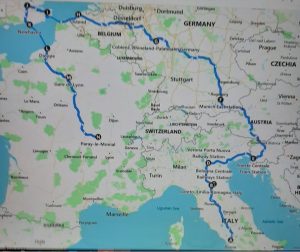 I was drawn to read again the excerpts from Mary MacKillop's diary from August to mid-October 1873. Mary had been in Rome to endeavour to have the Constitutions approved. The revised Constitutions were eventually completed with the assistance of several priests and sent to Pope Pius IX for approval. It was expected that the process would take quite some time. The heat of Rome had been burdensome for Mary who attributed much of her frequent illness to it. Her fledgling congregation was uppermost in her mind together with a deep desire to obtain materials for the schools, learn about the methodology in Germany and, perhaps, find some young women to join her. On advice, she decided to leave Rome, visit some schools and make her way to London depending on friends and the Providence of God to provide the means to do so.
On August 1 she set out on a journey that was truly formidable in that era. She left Rome by train and visited the Holy House at Loreto spending two days there. She then travelled to Bologna where she arrived at midnight, stayed in the station waiting room and left at 3.00am for Verona arriving there at 9.00am. She spent that day also in the waiting room and left at 3.30pm for Trieste where she arrived at 6.00am next day.
The Convent, where she hoped to spend the day, could not accommodate her necessitating her to go elsewhere. Compounding her dilemma was the fact that she did not have sufficient money to complete the journey.  That afternoon a kind lady took her to Rev Baron von Obercamp from whom she borrowed the money to continue her journey. She left Munich at 6.30pm to catch the train to Coblentz where she arrived at 9.00am next morning. She remained at Coblentz for a week "with the kind sisters" visiting schools, noting teaching methods and obtaining school materials from suppliers. Satisfied with her experience there, Mary set out to make her way to Dover to connect with friends in London. As was customary when crossing borders there were custom checks. At the Belgian border, the train stopped at Verviers where she had her bags examined. Being alone and unfamiliar with the station, she took the wrong train and found herself in Brussels. Mary wrote, "after a weary journey got at last to Ostend about 9.00pm. Had to stay the night in the Hotel."  Next morning, she caught a steamer to Dover and then the train to London to join friends – friends who spoke her language and cared for her, thus somewhat alleviating her feelings of isolation…
Please continue reading below:
Read the whole article here (PDF)
Map of Mary MacKillop's Journey from in 1873 (PDF)
Maria Casey rsj