May 4, 2021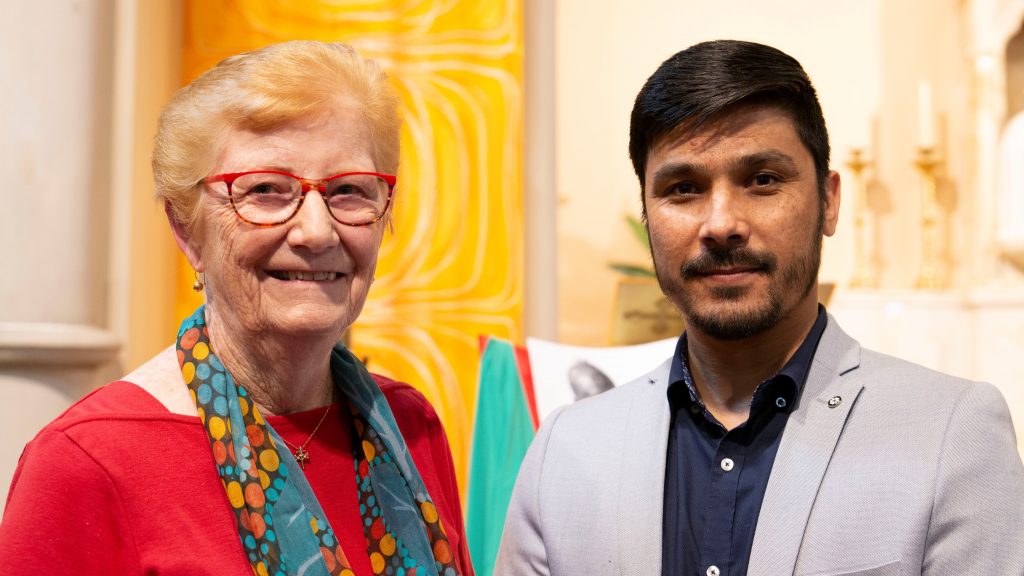 Refugee advocates and members of the Josephite Justice Network launched a new campaign, 150 Days of Action for Refugees, on 1 May for the Feast of St Joseph the Worker.
The campaign is a response to Pope Francis' declaration of 2021 as the Year of St Joseph, who was himself a refugee in Egypt and is "the special patron of all those forced to leave their native lands because of war, hatred, persecution and poverty."
Bishop Terry Brady launched the campaign with a liturgy at the Mary MacKillop Memorial Chapel, North Sydney, telling participants that they "could make a difference, and must work to make a difference."
The liturgy consisted of prayer, a call to action, readings from Scripture and a testimony by Sayed Musavie, a refugee from Afghanistan.
"Reflecting back on my time in the detention centre, I believe one of the main problems was being labelled as numbers, which is so dehumanising," Sayed said.
Organiser Sr Jan Barnett rsj, the co-ordinator of the Josephite Justice Network, was inspired by the passion and variety of participants.
"The launch was an extraordinary encounter with representatives from an amazing diversity of Church, schools and community groups. Witnessing their passion, generosity and commitment to both prayer and action was inspiring and challenging," Sr Jan said.
"The journey with refugees and people seeking asylum, who are experiencing, on a daily basis, the cruelty and injustice of Government policies, can be dispiriting. Saturday reminded us, however, that we must live with hope, even in the midst of despair."
Prayers read at the launch called out to God for justice and sought to give voice to the frustrations, lamentations and heartfelt wishes of refugees and their allies.
One prayer asked for God to bless those in attendance with "a discontent at easy answers, half truths, and superficial relationships, so that you will live deeply within your heart."
Attendees at the launch included representatives of the Australian Social Justice Council, the Sydney Archdiocesan Justice and Peace Office, Religious Congregations, schools and charitable organisations.
Young volunteers from the Josephite Action Group participated by speaking, singing, reading and offering hospitality.
During the 150 days of action, organisers aim to engage with people of good will, and change Australia's attitude and policies towards those seeking protection in Australia.
Although many Australians consider the issue "solved" because of the strict border control measures enacted by the Coalition government, Catholics continue to minister to refugees and asylum seekers in the community and advocate for their freedom and welfare.
The 150 days of action will conclude with a Day of Lamentation and Call on Refugee Sunday, 27 September.
Mary Baynie
Congregational Administration Services