February 23, 2022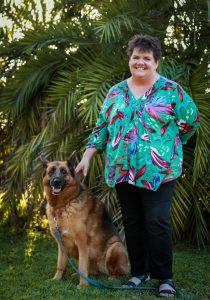 Pauline McGuire lives in Townsville, Queensland where she works as secretary for the Mary MacKillop Parish. It was at the Parish that Pauline discovered a connection with the Josephite Charism and became a Josephite Companion in 2009.
As a Josephite Companion, Pauline helps coordinate the MacKillop Gate Prison Bag ministry and assists with the planning and prayer for the local Companion group. Pauline is chair of the Qld Josephite Companion Leadership Team and a member of JCoLT (The National Josephite Companion Leadership Team).
Pauline has two children, Liam and Ella, one daughter-in-law Sarah and a granddaughter, Josephine. Ella is the actual owner of dog Gerry – the dog which Pauline has custody of while Ella is working in the Northern Territory.
What does a day in the life of a Josephite Companion look like? I will start by saying that there is never a 'typical day' for anyone, however our lives generally follow a pattern which includes challenges and change.
As Josephite Companions, we endeavour to meet these challenges through a contemplative life enfolded in our Josephite Values. I would like to say that I achieve this 100% of the time, although it's more like a work in progress.
Starting the day, I usually rise at 6:00am and as I am living in North Queensland I leave the comfort of my air-conditioned bedroom to be struck by the warm humid air of 31 degrees Celsius.
Beginning my ritual, I dress and take the dog for her walk, much to her excitement. As we pass our fellow morning walkers, we share the morning greeting and I begin to recite the Josephite Companion's prayer. The prayer centres my mind and heart, and I begin my day focused on prayer and my fellow companions, ready to greet daily challenges with a Josephite heart. As the dog has now lost the enthusiasm she once had, I drag her back home, ensuring she has a treat for her efforts. I then set off to work.
I work in administration, which can be repetitive, however I get to meet a variety of people. Assisting them in what they need is always rewarding and often leads to interesting challenges.
My passion is the ministries I am involved with through the Josephite Companions. We have several ministries in Townsville including the Mary MacKillop Blue Bags – delivering essential items to newly released prisoners – and Bob's Backpacks – providing toiletries and snacks to at risk youth. Today we are delivering 20 Blue Bags to the community corrections centre which then distributes the bags directly to prisoners. The people we deal with are very grateful for the assistance we provide. It never ceases to amaze me how the little things we do can make such a difference in people's lives.
Today is our monthly prayer gathering. We gather for contemplative prayer, supporting each other through prayer and friendship. As Josephite Companions, we share in each other's pain and joy, journeying together as a group and larger movement.
As the day is ending my dog will be waiting for her dinner, so I head home. Nourished through prayer and friendship I reflect on my day, relatively happy with my achievements and looking forward to the challenges tomorrow will bring.
Pauline McGuire
Josephite Companion
Townsville, Queensland
---
Become a Josephite Companion
Josephite Companions are women and men from all walks of life who are drawn to the spirit of Mary MacKillop and Julian Tenison Woods. Josephite Companions are active in ministry in Australia and Aotearoa New Zealand as well as in Peru, Timor Leste and Scotland. If you are interested in finding out more about becoming a Josephite Companions visit the Sisters of Saint Joseph website: Josephite Companions – Sisters of Saint Joseph of the Sacred Heart (sosj.org.au)