May 8, 2019
This month you're invited to read about Sr Liz's Prison Chaplaincy.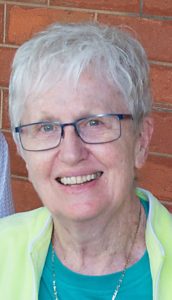 On passing through security with personal, and clear plastic bag scanning complete, one collects her keys, duress alarm, and signs in. It's then out into the prison proper not knowing what the day may hold regarding the residents nor the situations that may have occurred prior to the day.
For me it's coming into a space where I meet Jesus, broken and poor, walking the Via Dolorosa on the way to judgement day. I see the role of chaplain as being that of Simon helping to carry the cross, trying to lessen the load.
Each visit I make is unique to that resident where in listening to him I offer whatever support I can. Its like I am tending the soil, to allow more nourishment for the plant, the resident. Our support is about helping the person to try to feel a sense of hope for his future. I believe it's important to help him understand that whatever has brought him to this place in his life, does not define who he is, but is a part of him. No person is free from making mistakes, but the important thing is to learn from them.
As a chaplain I attempt to help the resident identify where life started to go off the rails and to encourage them to seek help in working through those issues. It's about helping to build or rebuild their self-esteem and self-confidence, encouraging them to believe they can achieve what they desire in life. Discussions around choices, not only on life matters, but also friendship groups and sometimes family are challenges they often mention, along with the 'band aid' solutions they seek through alcohol and drugs; either, or both.
I find this ministry to be very grounding, as I listen to the resident's stories and realize what is shared could be so for any person, given the right circumstances and the right buttons pushed. It can be challenging and at times frustrating but it's not about me it's about those on the inside.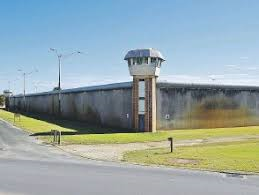 Working with the staff in a respectful manner has brought respect in return. I believe the prison values our services and sees us as part of the prison team. We have a regular meeting with the Assistant Superintendent Offender Services and our Coordinating Chaplain attends the Debrief meetings each Monday and Friday morning with senior staff. We are also included in the daily PRAG meetings for the men in the Critical Care Unit, or on ARMS watch.
This prison is a remand, maximum, medium and minimum facility catering for around 1200 men. The men are remanded here until they are sentenced, then come back to be assessed as to which prison would best cater for their sentence requirements.
Each time I visit the prison I feel a deep sense of gratitude for my faith. It's a very humbling and privileged ministry.
Liz Koziol rsj
Photo provided by Liz Koziol rsj.
Photo of Hakea Prison sourced from their website.