May 8, 2020
Times of change at St Anthony's Family Care.
When I first stepped foot into St Anthony's Family Care in Croydon, NSW almost 25 years ago, I could have never imagined how the organisation would change my entire life.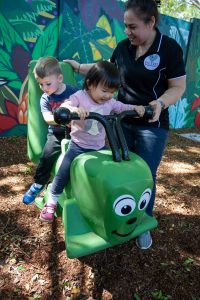 I first started in the child care centre as a volunteer, dropping past the day care after school a few days a week. During these visits I would spend time with the children and we would play and learn together. These visits helped me to learn that being with a child is always a great way to help put a smile on your face. There is nothing quite like watching a child take their first steps or learn to write their name.  While I always thought I wanted to work with children the opportunity to spend time with the staff, children and families cemented my love of child care. I knew then that this is what I wanted to do with my life. Fast forward three years, I turned 18 and was given the opportunity to take on a casual role and the rest, as they say, is history. Now I hold the role of Manager, Early Learning Services and am fortunate enough to be part of the senior management team at St Anthony's Family Care.
While working at St Anthony's, I have had many wonderful opportunities to work in various roles and am truly grateful to be part of such a wonderful organisation which works to support children and families within our community.
When I first started working for the child care centre, St Anthony's operated two separate services, the day care which catered for children who were typically developing and the special pre-school which had been providing care to children with disabilities and developmental delays since the early 1980's.
In 2007 the decision was made to join the two services, so St Anthony's was able to offer children and families a fully inclusive child care model and allowed children to play and learn alongside each other. This amalgamation of services once again changed my world. At that time, I knew very little about supporting children with disabilities and had never heard of Autism Spectrum Disorder (ASD).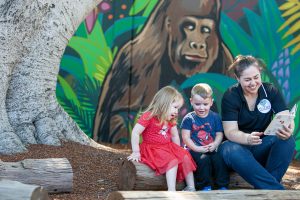 Once again thanks to St Anthony's, my eyes were opened to the whole new world of early intervention, allied health professionals and case conferences. After being in child care for a number of years my understanding of early childhood shifted as I began to learn about the many different ways children with disabilities could be supported to develop to their greatest potential.
Now after thirteen years of providing a fully inclusive early childhood education and care model to children, St Anthony's Family Care is again experiencing an exciting change as we undertake a site redevelopment.
Today our new purpose built child care centre is complete and I am delighted to tell you all about Figtree Early Learning Centre. Figtree Early Learning Centre will be an 86 place early learning centre and remains committed to supporting all children and families. While 25 years with one organisation may seem like a long time no two days are the same and I look forward to the new opportunities as we now open Figtree to our community.
Teresa Petrone