June 26, 2020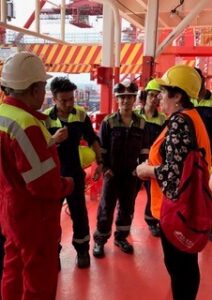 Port Chaplaincy – Sydney Ports.
The Sydney waterfront portrays a rich tapestry of maritime life and industry. It is always a colourful, sometimes funny and often harsh but never a boring environment to minister within as Port Chaplain.
My role mainly involves that of presence within the port, and I regularly play the roles of advocacy and mediation.
Welcoming seafarers is a major part of my days. This involves the visitation of cargo ships and their multi-cultural, multi-faith seafarers onboard.
Samuel Johnson the famous English writer once likened being onboard ships to "…being in prison with the added "bonus" of the threat of drowning…"
Seafarers are usually driven into the maritime industry because of global poverty. Those landing a contract usually do so because they are the cheapest labour in the market.
They spend most of their lives isolated from family and loved ones. Their work is insecure as they rely on one contract at a time. The maritime industry can be cruel in terms of registering ships in tax havens such as Bermuda, Liberia etc. (AKA Flags of Convenience) where there is no regard for the seafarers' human rights.
Along with all this exploitation seafarers live and work in constant danger due to bad weather, unseaworthy vessels and the threat of piracy and many other forms of abuse, with the fear of blacklisting if they complain.
Despite the best efforts globally to enact the Maritime Labour Convention 2006 and other laws intended to protect seafarers' rights they remain out of sight and in international waters criss-crossing our seas.
The reality of course is that 98% of all commodities are brought to our shores by these people /seafarers. Most of what we wear, our white goods, computers, cars, farm machinery, food, medical supplies, fuel etc. Due to the demand for commodities the ships are obliged to move as quickly as possible which means that crews are denied the possibility of shore leave in any port.
This and many other conditions further exacerbate the isolation, loneliness which has detrimental effects on their wellbeing. The latest survey done by Yale university reveals that 20% of seafarers contemplate self-harm. We can well believe this now that we know that 4 seafarers have suicided in the last few weeks alone.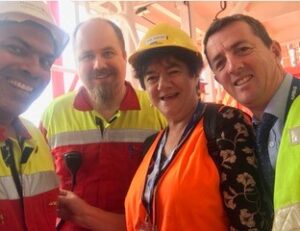 The chaplains' role of course is to welcome the stranger as encouraged by the Gospel. For me this means welcoming seafarers, advocating, lobbying maritime authorities on their behalf and promoting their human dignity and rights. Working closely with the local and global maritime unions to respond to seafarers' needs while in Australian waters and international waters is essential.
As port chaplain I also play a pastoral role with the other maritime stakeholders, wharfies, terminal managers, security, pilots etc. I endeavour to promote the concept of providing a 'safe harbour' for arriving crews by developing friendships with all other sectors involved in the port operations. This develops a sense of solidarity and collaboration and kindness within the waterfront.
In my opinion seafarers are resilient and courageous human beings who sacrifice much for their loved ones. They are regularly the first responders at sea to rescue those fleeing from war torn countries. They work at great personal cost to educate their children in the hope of escaping poverty.
Let us salute all seafarers.
Mary Leahy rsj