March 20, 2020
A Day of Worldwide Solidarity and Prayer in this time of COVID-19
How might our prayers and intentions be joined across congregations for the common good of the whole Earth community to help lift the spirits of a people, especially in the wake of closed churches, synagogues, mosques, and other places of worship? What would happen if elder Catholic sisters (and brothers and priests) … were to unleash the power of their lifetime of prayer and contemplative practice to hold the safety and protection of all peoples across the world as a sacred intention?
The International Union of Superiors General (UISG) has called upon all women religious throughout the planet to spend Sunday, 22 March as a Day of Worldwide Solidarity and Prayer.
This is a special time for prayer and for witness through practical solidarity and awareness of our responsibility to care for one another. We therefore invite all the member congregations of UISG to make 22 March a day of worldwide solidarity and prayer especially for all those directly affected.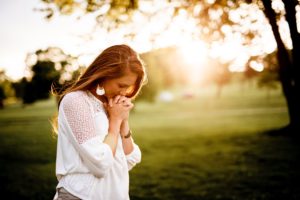 Leadership Conference of Women Religious (LCWR) encourages all leaders to ask their members to join intentionally their own prayer with Catholic sisters throughout the world who will also be praying for those directly impacted by this crisis. Through the mystery of God, may this action of solidarity contribute in some way to an increase in healing, compassion, and love throughout the planet.
As Catholic Religious Australia (CRA), dedicated to the service of religious life in Australia, may we suggest that all religious institutes inform their members that this coming Sunday is a Day of Worldwide Solidarity and Prayer and ask them to place the good of our planet at the heart of their day's prayer.
Sharon Price rsm
Transition Manager, CRA
Image: Women praying beside tree by Ben White obtained from Unsplash. Used with permission.