December 8, 2019
Welcome to the Australian Catholic Youth Festival 2019, Perth.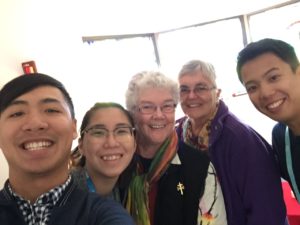 The Australian Catholic Youth Festival (ACYF) is a national gathering of Catholic young people that has been established by the Australian Catholic Bishops Conference (ACBC).
It exists to provide young people with opportunities to deepen their relationship with Jesus and to be empowered to be disciples in the world today and to encounter and celebrate the vitality of the church in Australia.
The Festival will use the scripture focus of the 2020 Plenary Council by adopting the theme: "Listen to what the Spirit is saying" (Rev 2:7).
The Perth Archdiocese is hosting this event from December 8 – 10 in the Perth Convention Centre close to the scenic Swan River.
Excitement is building up and so is a movement around Australia for the "Word "has been passed around. Young people are travelling as Pilgrims to Perth's Holy Ground. They'll cross Bass Strait and fly over the Nullarbor, and be warmly welcomed by the Youth of WA
They have heard the whisperings of the Holy Spirit and God has touched their hearts.
In 1868, when 26-year-old Mary MacKillop wrote to her Mother Flora, she said: "Believe in the whispering in your own heart". Mary's word rings true to the young people of today as they listen to what the Spirit is saying in their hearts.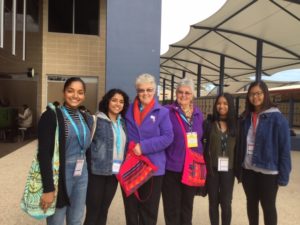 In his letter to the youth of the world, "Christus Vivit", Pope Francis writes: "The young are in my heart."
He challenges them to "Stand up and make your voices known today." He reminds the young about how important it is for them to have an active role in the Church today and calls them to take risks in following in the footsteps of Jesus with the words:
Have you heard the voice? Have you felt the urge to undertake this journey… even when the journey is uncertain, and you fall? God in His rich mercy will extend His hand and pick you up.
Australian Catholic Youth Festival Expo 2019
The Encounter Expo will be such a hive of activity at the Festival that the participants will be sure to return to again and again.  It will be an interactive and dynamic space in which they will be invited to encounter the breath of the Catholic Church in Australia in new and unexpected ways.
There will be more than 80 separate stalls at ACYF Expo 2019. Participating Catholic agencies, organisations, religious orders, ecclesial movements and numerous other Catholic groups from across Australia will offer a range of interactive and experiential activities through which to explore the variety of ways by which the Church's mission in Australia is being carried out.
Highly engaging, informative and fun – the EXPO will be the PLACE to be…
Please continue reading the article here (PDF)
Maree Riddler rsj
View photos in the photo gallery below: