December 21, 2022
Marianne Zeinstra rsj, a member of the Sisters of Saint Joseph Reconciliation Action Plan Working Group, shares an Advent reflection as the Congregation prepares to launch its Reconciliation Action Plan in 2023.
An Advent Reflection
Matthew's Gospel recounts the risky and vital decision our patron Saint Joseph was asked to make. It speaks to me strongly of the decision we will all have to make in 2023, when a National Referendum will ask us for a YES or NO vote, to including an Aboriginal and Torres Strait Islander voice to Parliament, in the Australian Constitution.
On learning that Mary, his betrothed is with child, not his, Joseph decides to divorce her quietly, in accordance with the law and convention of his time. Emmanuel, God with us then enters the scene. Joseph has a powerful dream, the Angel of God, explains, Joseph. DO NOT BE AFRAID, take Mary as your wife, make a home with and for her and the child. Joseph then must risk faith in his dream, in what he believes God is calling him to, over the security of the law and conventions of his time.
Next year our Congregation will launch its Reconciliation Action Plan (RAP) in response to a call of our 27th General Chapter. "Let's learn from the First Peoples of our countries and wholeheartedly support as neighbours their initiatives for recognition, agency and justice." All Australians, all Josephites, will also need to register a vote in the National Referendum on including an Indigenous Voice to Parliament in the Constitution. Like Joseph, we too have a risky decision to make. Can we too risk to dream? Can we nurture and bring to reality God's Dream for a stronger, more unified, and inclusive Australia by supporting the First Peoples initiative for recognition and voice?
Mary Mc Glone CSJ in her reflection on Matthew's Gospel writes "Encountering Emmanuel, God with us, is both demanding and immensely surprising. God, who comes to our door and appears in dreams asks "Will you, like Joseph adopt my plan? Will you make room for Emmanuel in ways you have never imagined?"
How will we reply? Will we be open and courageous like Joseph our Patron?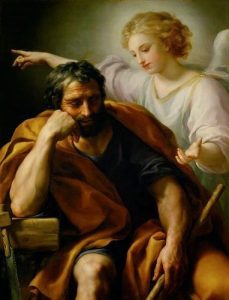 Anton Raphael Mengs –The Dream of St. Joseph 1774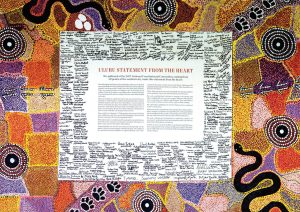 Uluru Statement From the Heart