July 31, 2019
Elaine Wainwright says that human centredness can distort our capacity to recognise that Earth's resources belong to all life.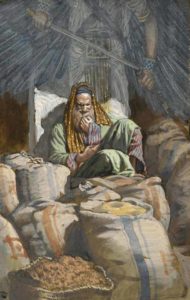 The major feasts in our liturgical year are behind us and "ordinary time" stretches ahead until the celebration of the Universal or Cosmic Christ on 24 November. Each week we will read the Gospel of Luke which has the potential to draw us into new ecological perspectives.
Luke 12:13-21 on first reading is human-centred: divide the family inheritance with me; I will pull down my barns and build larger ones; and many other examples. This is something we can relate to. But in Laudato Si' Pope Francis warns against modern anthropocentrism as one aspect which makes us unaware of our effect on Earth.
Human-centredness characterises the world view of the Graeco-Roman world, namely that the head of the Roman household had power over and ownership of both the people and property belonging to that household. This plays out in the story. The first human character we meet (Lk 12:13) wants Jesus to intervene in a dispute over a share in the family inheritance. Jesus's reply: "for one's life does not consist in the abundance of possessions", is preceded by warnings: "take care", "be on your guard". Jesus is critiquing the prevailing world view where property and possessions were considered to be "owned" by the head of the household…
Continue reading the article below:
Tui Motu Issue 240, August 2019 (PDF)