May 8, 2020
St Anthony's Family Care in Croydon NSW has, for over 60 years, been supporting the local community.
At St Anthony's Family Care, we have achieved our support to the local community through a range of services focusing on the needs of children and families. Our services have changed with the years, but we have always remained true to our mission and to following in the footsteps of Mary MacKillop. Our primary services today, centre around children with disabilities and particularly children with Autism Spectrum Disorder (ASD).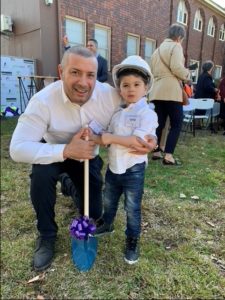 After operating from a site which is close to 100 years old, our buildings were tired, required significant maintenance and were no longer fit for purpose. After many years of planning and considering various options, the decision was made to construct a new accessible and purpose-built village. The facility was designed to consist of an 86-place inclusive Early Learning Centre, three houses for children with disabilities for short term accommodation, an Activity centre for children with disabilities and administration facilities. The new and expanded village would enable St Anthony's to support a greater number of children to reach their greatest potential.
Many of us know a family member, friend or neighbour, whose life has been touched by a person with autism. Through our site re-development project, we have met a lovely family who we have been able to support through their new and unexpected journey into the world of ASD.
In September 2018, St Anthony's Family Care engaged Anthony Panzarino as a Project Manager for the re-development. Here is his story ….
In May 2016 my wife Donna and I welcomed our first child, Vito to the world. It was such a joyous occasion for us and the extended family. When Vito was 2 years old, we enrolled him in the local childcare centre. After a period of time, the educators raised concerns about Vito's progress as he found it difficult to settle in each day and would become upset with too many people in the room. Vito also struggled with excessive noise from other children, and unfortunately this was hard to avoid within a childcare centre. Given the concerns raised by Vito's childcare provider, my wife and I started the process of finding out how we could help our son. After visiting GP's, speech Pathologists, occupational therapists, educational and a developmental psychologist and meeting with social workers, we were totally overwhelmed and confused about what the future held for our family and our son. Then in June 2019, Vito took part in a developmental assessment and we were told that Vito would be diagnosed with Autism Spectrum Disorder (ASD).Knowing very little about ASD and how to best support our son, my wife and I began talking to my new work colleagues at St Anthony's. With a diagnosis in-hand and a plan of action, Donna and I decided to enrol Vito into the childcare centre at St Anthony's three days a week. We also spoke to the St Anthony's Disability Services team who helped us secure funding through the National Disability Insurance Scheme (NDIS). This meant that we were now able to start accessing regular speech and occupational therapy sessions and Vito was able to attend a childcare centre that was able to meet his additional needs.Within less than a year of intervention, Vito is now toilet trained, is able to feed himself, can follow routines and sits to complete tasks with educators. He also absolutely loves going to childcare and seeing his educators. Now that the new Figtree Early Learning Centre is built and ready for the children, we are excited to watch as our son continues to grow and develop new skills at St Anthony's.
To learn more about our services, the families we support and our very exciting site re-development, visit our website.
Joanna Najdzion
Chief Executive Officer