October 8, 2019
Reasons to Strike
Pope Francis calls us to care from our common home, telling us, as people of faith, that living our vocation to be protectors of God's handiwork is essential to a life of virtue; it is not an optional or a secondary aspect of our Christian experience.
As if we needed any more motivation to act for climate justice, The Guardian news service provides us with over 20 reasons why the worldwide youth climate strike movement is essential.  Here is a taste, a convincing affirmation for those of us who chose to participate in the Youth Climate Strike.
Strike because the people who did the least to cause this crisis suffer first and worst – the people losing their farms to desert and watching their islands sink beneath the waves aren't the ones who burned the coal and gas and oil.
Strike because this could be the great opportunity – and maybe the last opportunity – to transform our society towards justice and towards joy. Green New Deals have been proposed around the world; they are a way forward.
Strike because what we do this decade will matter for hundreds of thousands a year.
Strike because indigenous people around the world are trying to protect their rightful land from the coal and oil companies – and in the process protect all of us.
Strike because science is real, because physics exists, because chemistry matters.
Strike because the world we were given is still so sweet. (19/9/19, The Guardian)
And so many Sisters, Associates, Youth Volunteers and Josephite Friends, from around Australia and beyond, joined with young activists to march for Climate Justice.
In Ireland: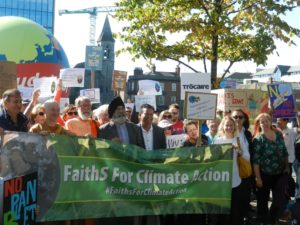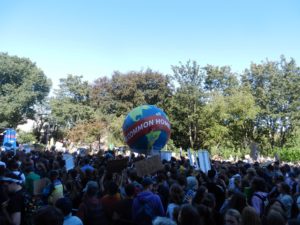 In Sydney: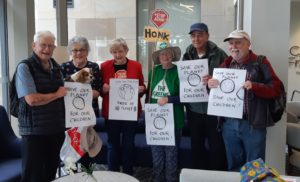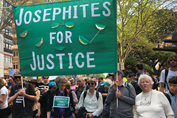 In Brisbane:
Josephite Sisters joined Youth, Families, Faith Groups, Union representatives and other supporters in the climate action march held on Friday afternoon 20 September 2019, in Brisbane.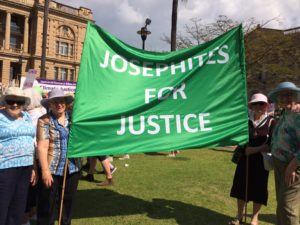 It was evident that those who marched were concerned about the earth, water and the welfare of future generations. There was also a sense of urgency. We have no time to wait for action. The time to act is now.
Each of us can take some action through prayer, saving water, saving electricity, buying and using less products and recycling.
We will continue to support our youth and act for climate change in our actions, prayers and advocacy work.
In Perth:
As Forrest Place in Perth bulged with the thousands of students and adult workers and supporters, the voices of the organisers were heard over the masses.  The walk down William Street and onto Elizabeth Quay was peaceful and passionate, with chants of what do we want… climate justice and more. The student leaders were supported by Trade Union members and individuals, some leading small children and infants, with slogans like… give me a future…
As the news of the hundreds of rallies came through social media, and news outlets across the world, one could only marvel with emotion at 'the power of one', Greta Thunberg who has shown in her speeches and responses that she has a comprehensive grasp of the climate crisis, ( she has studied all the reports of the IPCC) and who has brought millions with her in this campaign.
It was amazing to be part of such a mass of humanity, wanting to proclaim that together we must act to save our planet.
Let us continue to act, to lobby our members in Parliament, to do what is right, not just what is economically profitable, to create jobs in renewable energy, and to think and speak with vision for the good of the people and the planet.
Karen Oxley