February 12, 2020
On February 12, 1940, at Sacred Heart Convent, New Town,
Sister Mary Francis McCarthy, aged 90 years.
Requiescat in pace.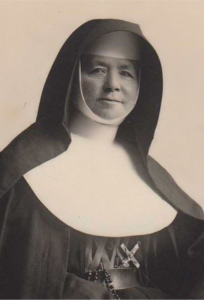 Annie McCarthy, born in Dublin on 12 December 1849, arrived in Perthville from Ireland with eight other young women on 1 May 1875.
Their destination – the Sisters of Saint Joseph. Sr M Francesca (as Annie became known) lived through the separation of the Josephites, and even though it was her desire to follow Sr Mary MacKillop and the sisters to Adelaide, this did not eventuate. Instead she remained in Perthville, where she grew as a Josephite and had the opportunity to know and love Fr Julian.
Twelve years later, in 1887, Sr M Francesca, now known as Sr M Francis, and four Sisters left Perthville, stayed with Mary MacKillop and the Sisters at Mount Street overnight, and then sailed on the SS Corinna to Tasmania. After a very rough voyage to Launceston, they arrived in Westbury on 24 May. The school in Westbury, under the leadership of Sr M Francis had begun with eight students, but by the October of that year the numbers had increased to over 100.
With the faithfilled example of Sr M Francis to guide the Sisters, schools sprang up all over Tasmania.
She became an integral part of the Josephite story – a story of courage, of faith, of education, of being one with the people, and of great confidence in the God they loved so dearly. In four years, four new foundations were made on the north west coast of Tasmania. Sr M Francis simply packed her bag and moved on to the next place.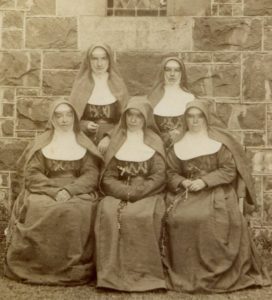 Sr M Francis died at Sacred Heart Convent, New Town, the Mother House for the Congregation. On 14 February 1940, Requiem Mass (preceded by Solemn Office) was celebrated in Sacred Heart Church, New Town, the church where the Tasmanian Sisters received the habit and were professed as Sisters of Saint Joseph. Archbishop JD Simonds presided and the Mass was celebrated by Fr F Bowman with priests as deacon, subdeacon and chanters. Altogether sixteen priests joined the sisters and people to say farewell and pray for this gentle and humble sister. The funeral procession then moved to Cornelian Bay for her burial with the deceased sisters.
Sr M Francis died as she lived – simply. To the island state she had brought her own ordinariness, simple faith, compassion, gaiety, spontaneity, patience in suffering and a great love for both Julian and Mary.
At her Requiem, Archbishop Simonds told this story.
Once, kneeling before a battered crib at Ulverstone Sr M Francis dotted down this prayer.
Grant, O Infant Jesus, that I may be like that shepherd, without head to reason or rebel; like that cow, without horns, to escape hurting anyone; and without feet like your little image here so as not to be able to run away from Thee. Amen.
Colleen M Power rsj