September 23, 2022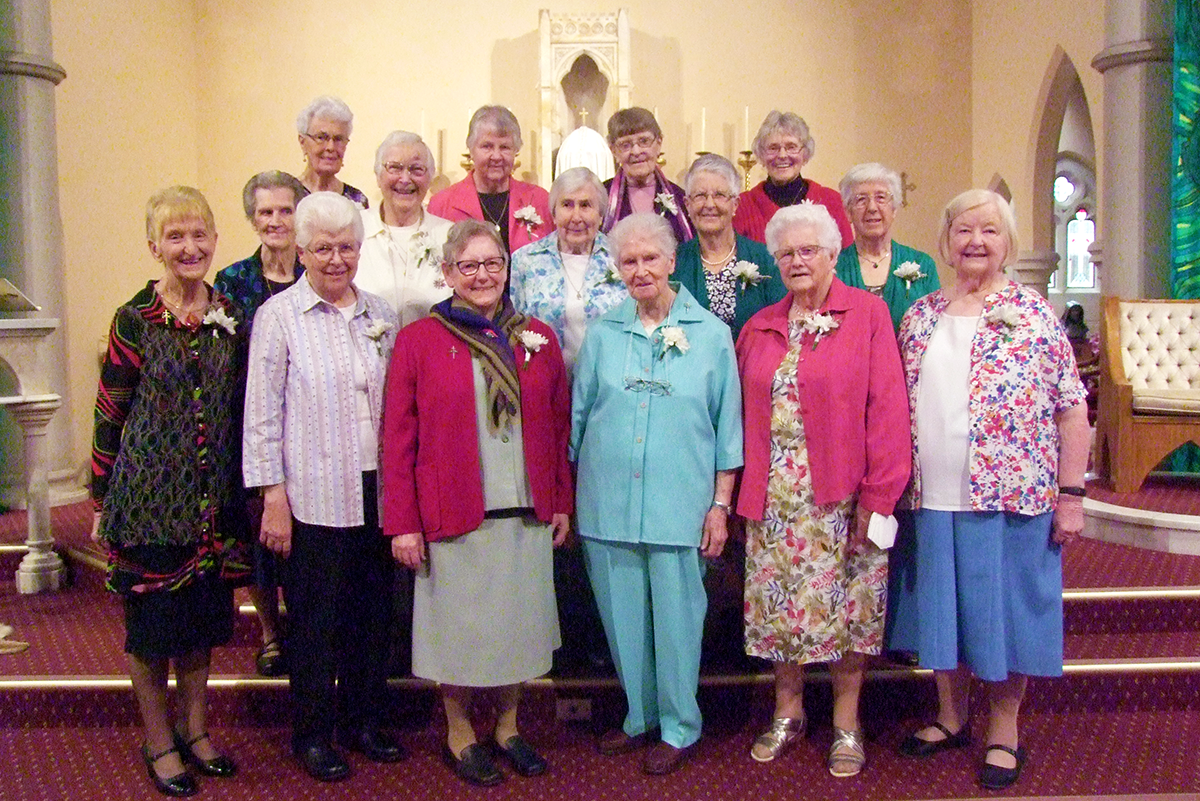 Sisters celebrating their Diamond Jubilees were delighted to come together as they entered the Chapel at Mary MacKillop Place for their Mass of Thanksgiving,
The marking of their Jubilees had, as had others, been postponed due to the pandemic. Finally on 15 September 2022, the Sisters were able to celebrate their commitment of 60 years as Sisters of Saint Joseph with fellow Sisters, family and friends.
Sr Monica Cavanagh, Congregational Leader, welcomed all to the Eucharist, particularly the 15 Jubilarians, while remembering the 10 Sisters unable to be present and the 11 Sisters who have died. Sr Monica spoke of the journey that these Sisters had set out on 60 years ago which had taken them into situations that they possibly never dreamed of on that first Profession Day.
Bishop Vincent Long of Parramatta as chief celebrant, assisted by Fr Peter Hudson, congratulated the Jubilarians on their vowed commitment.
From the opening procession, the hymns and prayers were of joyful worship and thanksgiving – for years lived, for commitment given, for Josephite life and ministry, and for those Sister companions not present to celebrate.
The Jubilarians were invited to renew their vows by Sr Monica, and their renewed commitment was met with applause from the Congregation.
At the conclusion of the Eucharist, Jubilarian Sr Elizabeth Morris spoke on the group's behalf to thank the Celebrants, the Congregation attending, as well as all the many staff and Sisters who had made the celebrations of the week possible and enjoyable.
The Sisters had gathered days earlier in the newly opened Anderledy Lodge at Mary MacKillop Place. Time together was spent reminiscing, in catching up with lives lived in different areas of Australia, Aotearoa New Zealand, Scotland and Peru. Those Sisters who were not able to be there were remembered.
Sr Monica joined the group for a morning of reflection, beginning with a phrase of the Sisters' Chapter statement 'Bring me what you have'. Her words on Jubilee were of a time to delight and be present to one another. The reminiscences shared did this, and brought all up to date since their gathering for Golden Jubilees.
Sisters who had died were remembered at an evening Memorial Prayer at St Mary MacKillop's tomb. Members of the Congregational Leadership Team joined the group as they named and gave thanks for the life of each Sister, lit a candle, and placed it on Mary's tomb.
As the Sisters prepared to leave Mary MacKillop Place after their six days together, the words spoken by Sr Elizabeth Morris in her Chapel thank you seemed so appropriate:
As we look back over sixty years we also remember and give thanks for the countless number of the people of God with whom we have been privileged to walk, and to whom we have been able to minister in a variety of ways. They have truly enriched us, supported us in prayer and friendship, and continued to believe in us as the years slipped by.
In the words of Fr Julian Tenison Woods: "To God alone be all the glory".
Anne Burke rsj
Aotearoa New Zealand
Entrance Procession
Acknowledgement of Country & Welcome
Renewal of Vows