March 19, 2021

Sr Monica's video message.
Feast of Saint Joseph (19 March)
Be creatively courageous like Joseph.
On 8 December 1870, Pope Pius IX declared Saint Joseph as the Patron of the Universal Church. Pope Pius IX was the Pope with whom Mary MacKillop met in Rome in 1873. On 8 December 2020, Pope Francis wrote his Apostolic Letter, Patris Corde (With a Father's Heart), to mark the 150th Anniversary of the Proclamation of Saint Joseph as Patron of the Universal Church. He declared the Year of Joseph to be honoured and celebrated from 8 December 2020 to 8 December 2021. Devotion to Saint Joseph has a long history in the Church and the more recent Popes have given a new emphasis to the importance of Saint Joseph in our Christian Story.
On 19 March 1866, Mary MacKillop and Father Julian Tenison Woods placed the work of this new Institute (Sisters of Saint Joseph) under the care of Saint Joseph.
Mary MacKillop writes to the Sisters on the 25th Anniversary of the Congregation:
It was on this day that our Glorious Patron Saint Joseph was first honoured as Patron of little children and our work committed to his care.
Much has been written about Saint Joseph. This year I thought it apt to focus on the 'creative courage' of Joseph. Like Mary MacKillop, Joseph found himself taking fresh courage as he listened deeply to what God was asking of him. Joseph's courage comes to light when we see him step outside the norms of his Religious Tradition and take the pregnant Mary into his care instead of casting her aside as the Jewish law required he should. We see it again when we find Joseph taking Mary and Jesus into the safety of Egypt as a refugee as Herod pursues the death of this new-born Child. Here Joseph carried out his role as protector of Mary and Jesus. Pope Francis highlights that like Joseph, everyone has been entrusted with the role of protection – protecting all of creation and showing loving concern for each person.
We see Joseph's creativity at play when he transforms the stable into a birthing place for Mary and when he chooses Nazareth as the home where he will bring up the Child Jesus instead of returning to the wrath of Archelaus in Judea. It was here in their home in Nazareth that Joseph and Mary taught Jesus the values that shaped Jesus' ministry – inclusivity, respect, compassion, tenderness, courage, resilience and hospitality.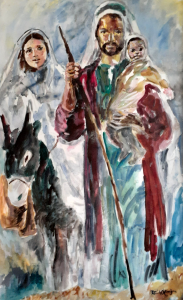 Our world is in urgent need of Joseph's creative courage. We have seen it in our frontline workers throughout the pandemic. We see it in people revolting against structures of government that hold people in situations of oppression, we see it in the faces of those left homeless or unemployed through the experience of COVID-19, we hear it in those giving voice to realities where people are unjustly treated, as revealed in our recent Australian Aged Care Report; and we hear it in the voices speaking out against the destruction of planet Earth urgently calling all to address the impact of climate change. Everyday, we learn of the courage of parents dealing with mental health issues impacting their children lives, of employees taking stances for the good of society, of teachers managing online learning for their students, of aid workers steadfastly working with those at the fringe of society and the poorest parts of our world, and of journalists bringing to our attention people and situations where oppression occurs. Like Joseph they have let no obstacles deter them from acting with courage.
As Patron of the Universal Church, let us entrust the Plenary Council here in Australia into his care remembering that Joseph honoured the faith tradition of his time, taking Jesus to the temple to present him to God and to the Passover festival when he was aged twelve. Let us pray that the creative courage of Joseph be present in all the deliberations that form part of this important event in the life of the church here in Australia.
To mark this special Year of Joseph, the Sisters of Saint Joseph of the Sacred Heart have launched their new website along with other activities to acknowledge the gift of Joseph to our Congregation. In the week leading up to Saint Joseph's feast day there was a week-long prayer reflection online in which everyone was invited to join.
On this feast of Saint Joseph, let us pray that the creative courage of Joseph will guide us in the blessings and challenges that come our way in 2021. May you enjoy a day of celebration. Happy feast day.
Sr Monica Cavanagh
Congregational Leader
Australian Catholic Bishops Conference – Year of St Joseph
[1] Painting by Patrick O'Carrigan msc. Commissioned for the centenary of the Sisters of Saint Joseph in Tasmania.