July 29, 2020
Good Grief [1] has provided an update on their program Stormbirds and some resources on youth wellbeing.
---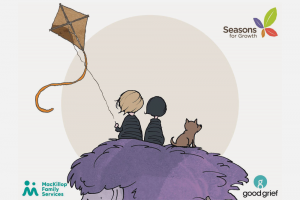 The bushfires across New South Wales, South Australia, Victoria and southern Queensland were unprecedented.The changes and losses experienced as a result of a natural disaster can be traumatic, complex and ongoing. Research following the Black Saturday fires in Victoria reveal that 5 years on, communities are still suffering mental health concerns at rates twice the general population.
Stormbirds is an early intervention education program that provides tailored support to children and young people affected by natural disasters. The program was developed by Good Grief in response to the Black Saturday Bushfires in Victoria and recently, the Stormbirds program has been reviewed and updated to support the children and young people affected by recent natural disasters.
Listen to our training coordinator Louise Hall discuss discuss the Stormbirds program with Simon Lauder on ABC News Radio.
With all the changes we experience in our lives, we may experience a range of emotions and reactions – we do not often recognise these as grief experiences.
Fiona McCallum, General Manager of Good Grief  presented on 'Seasons for Growth 25 years on – Educating children to live well with change, loss and uncertainty' on the Youth Health Forum: "A long and winding road: Navigating the journey of grief and loss". Youth Health Forums are stimulating, half-day forums that cover a wide range of adolescent health and wellbeing issues, appealing to health, education, community, welfare professionals and students.
Additionally, Good Grief has provided a resource titled Supporting your Child's Social & Emotional Wellbeing which includes some ideas to help children and young people in times of uncertainty.
Visit the Good Grief website here
Footnote:
[1] A former ministry of the Sisters of Saint Joseph, now part of MacKillop Family Services.