April 3, 2020
In March 2020, the Josephite Justice Network (JJN) gathered at St Joseph's Spirituality and Education Centre in Kincumber South, New South Wales.
We were so blessed to be able to have our Josephite Justice Network gathering just before the COVID-19 lockdown crisis occurred. Thank you to all of you who were able to attend. We missed those of you who couldn't be there. Weekend gatherings such as these are truly life-giving as we come together to learn, share our ministries and identify ways we can move forward, supporting each other and each other's work.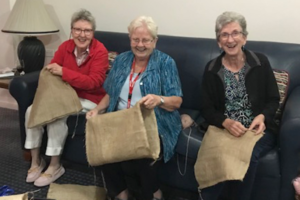 Our major theme for the weekend was "wisdom has built herself a house." We spent the time listening to the wisdom of group members – in awe at all that's happening around the congregations, and reflecting together on the wisdom and possibilities up for grabs!
Sr Susan Connelly began our session revising academic theories around scapegoating. There is a real world example being lived out in the Australian Courts whereby truth-tellers, Witness K and Bernard Collaery fight for justice to have their cases dismissed. If you would like to read more about this issue and how you can support these brave men, read here.
Saturday evening saw the group gather to sew hoods to be used in the Canberra protest in support of Witness K and Bernard Collaery. It was a team building session with a purpose and an urgent message to the Attorney General to #DropTheProsecutions.
This weekend seized the opportunity for JJN members to share progress and hurdles facing us in our work. JJN participants shared many stories – of political lobbying to assist Sudanese Youth find employment; Financial counselling to release families from irresponsible lending loans in New Zealand; an update of the Sydney Alliance initiatives and the JJN membership actions; Caritas work in light of continued government aid cuts; West Papua's freedom struggles; and First Nations projects and studies published by The Baabayn Project. A submission to the United Nations concerning the Australian Government's human rights agenda over the past 4 years has also been prepared and edited by the JJN group.
Finally, as an alternative to our current anthem we shared, in prayer, a more inclusive and reconciliatory Anthem for all Australians. You may like to view and share this offering here.
Wisdom was shared and it is abundantly evident that our houses are blessed with the people we work with, so that we might influence changes necessary to ensure that all people can live a life of dignity. Surely there will be much to share next time we meet.
We are investigating ways we can continue to come together while adhering to our responsibilities according to COVID-19 restrictions. However, in the meantime, let us keep each other in mind and heart. Let us all rejoice in our work that gifts us the wisdom to build a house that is a kingdom for all.
Karen Oxley
Volunteers Coordinator – Josephite Justice Network
P.S. Save the Date for a FREE fun-filled night of entertainment – Josephites Got Talent! We have to have something to look forward to… right? View a promotion video for Josephites Got Talent here.
View more photos from the JJN weekend in the gallery below: