April 6, 2022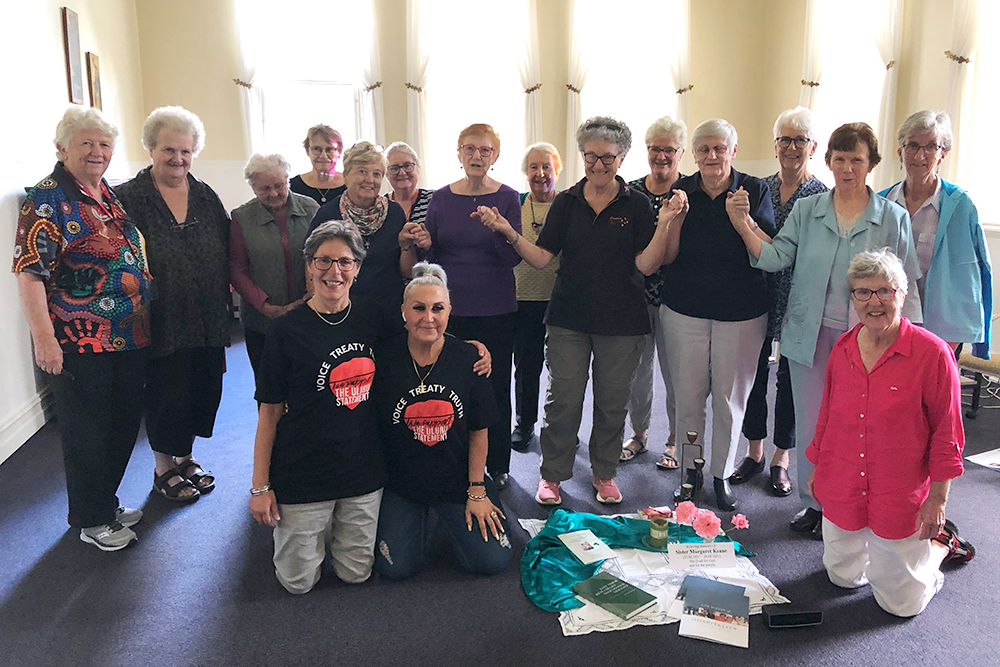 Josephite Justice Network Gathering: 11-13 March 2022
At long last with Covid restrictions eased, we, the Josephite Justice Network, were able to meet face to face.
Seventeen of us gathered at St Joseph's Spirituality and Education Centre, Kincumber, New South Wales and were aware of many others who were unable to join us.
On Saturday morning, we paused to remember one of our long-term members, Margaret Keane a Sister of Saint Joseph from Western Australia, whose passion for the poor, the First Nations people and in particular her abiding support and lobbying for the People of West Papua, inspired us all. Margaret died suddenly earlier this year. Her two sisters, both Josephites, had been looking forward to retiring to NSW and living together. They were able to join us for the Prayer Service via Zoom.
A workshop was presented by a First Nations Leader, Nicole Laupepa, and Jacqui Parker. The aim was to deepen our appreciation of the Uluru Statement from the Heart. A truly moving and challenging experience and recommended for all.
We then had the great opportunity to listen to and learn from Bernard Collaery. Bernard is the appointed lawyer for Witness K. The Australian Government spied on Timor-Leste in 2004 during Treaty negotiations concerning resources of the Timor Sea, an illegal and fraudulent act.
Witness K became aware of the spying and reported this to his superiors. He was advised to get a lawyer and chose Bernard Collaery. Both were later charged with revealing State Secrets. Over 60 Hearings have been held, many subject to delays and secrecy. The injustice continues.
The group then shared thoughts, ideas, concerns about the coming elections and received copies of the Election Kit: Voting for the Common Good, put together by the Josephite Justice Network and the Justice and Peace Office of the Sydney Archdiocese.
The Kit is aimed at the upcoming Federal Election and consists of the following papers:
Days of Action for the Common Good
Rebuilding Our Democracy
Acknowledging and Listening to First Nations people
Aged Care, Disability and Mental Health
Selling Death – Australia the Arms Merchant
Caring For Our Common Home
The Accelerating Gap Between Wealth and Poverty – Housing and Homelessness
Justice For Refugees
Right to a Fair Trial – Witness K and Bernard Collaery
West Papua – Oppressed, Forgotten People
Women's Rights in a Changing World
Young People and Justice
Each Paper addresses three Questions
What are the Issues?
What are the Effects?
What do we Want?
At the end of each paper are references for more information.
We left Kincumber inspired by the commitment and abiding passions of those walking with us on the journey of justice.
Carmel Hanson rsj
Representing the Sisters of St Joseph Lochinvar
Josephite Justice Network Member