December 14, 2020
Auckland Action Against Poverty (AAAP) organised a protest outside PM Jacinda Ardern's office in Mt Albert on Wednesday 9 December simultaneously with United Community Action Network (UCAN) in Wellington after more than 40 welfare and poverty charities signed an open letter to the Government pleading for them to increase welfare in the lead up to Christmas.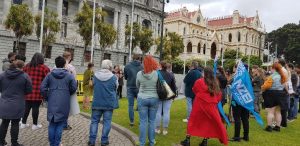 I joined the small, determined demonstration on the grass in front of Parliament. Speakers from UCAN, National Council of Woman, the TOP party, a supportive small business owner, student council representative, and a street poet to name a few, adding their voices to the chorus for the Government to address the glaring inequities in incomes for people of Aotearoa and respond to the research and recommendations already in front of them.
Ricardo Menéndez March former co-ordinator of AAAP now Green Party Social Development Spokesperson stated "we can use all of the legislative and ministerial levers to lift benefits immediately," including a Members Bill on benefit levels.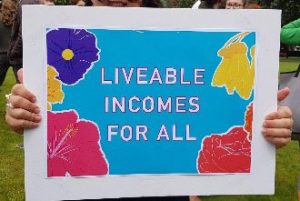 Following the protest we were invited to the Public Gallery to support Ricardo's maiden speech. As we were taken to our seats ACT (Association of Consumers and Taxpayers) MP, Nicole McKee, was in the process of delivering her maiden speech, advocating passionately for licensed gun owners. Her comments jarred and felt insensitive being the very day the Royal Commission Report into the Christchurch Massacre was released. The afternoon ended with an invitation to Level 7 in Bowen House to join the Green Party function. The crowd at the function was young, passionate and deeply immersed in politics; Chloe Swarbrick as intimidating in real life as she is in Parliament despite her youth and diminutive stature!
A hope-filled Advent experience in many ways with the words of the street poet lingering in my ears…
Do what you can for welfare, people are doing it rough, we want some effort and action to stop people doing it tough, do what you can for health care people are waiting for years, many are simply not coping and turning to ciggies and beers. Come on, do what you can Jacinda, you know that is it true, if you've got the will and the passion, the excuses are pitifully few.
Adrienne Gallie rsj