June 3, 2020
We commemorate Mabo Day on 3 June to honour the courageous efforts of Eddie Koiki Mabo to overturn the fiction of terra nullius (land belonging to no-one).
My name is Edward Mabo, but my island name is Koiki. My family has occupied the land here for hundreds of years before Captain Cook was born. They are now trying to say I cannot own it.
Quote from a manifesto prepared for the Mabo Court Case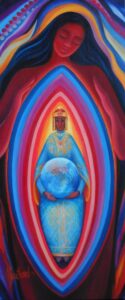 As we honour the life and work of Mr Edward Mabo, let's consider the prosperity of many of us, and the dispossession, poverty, homelessness, hunger and early deaths of many Aboriginal and Torres Strait Islander (First Nations) people across Australia.  First Nations People held the sovereign rights and cared for our country for thousands of years before colonisation. In the name of the British government Captain James Cook took the east coast of Australia in 1770, and for the next hundred years the entire country became crown land and was either leased, sold or granted to colonists.
As I wrote this reflection, I became aware of an open wound in Australia, and across the world, and all of us, as one body, holding the wounded one. Together birthing a love, we have longed for, but have never expressed in our social, legal and political systems. When I saw this beautiful icon by Mary Southard I was moved to deep compassion.  Eddie Mabo spent many years of his life longing for and working for justice for his people. Let's honour his life work today by caring deeply for what he cared for – simple justice, compassion and humanity for his people.
There is evidence in the Letters Patent promulgated by the British Parliament (1834), a situation in Port Philip Bay in Victoria (1835)  and in the words of Julian Tenison Woods (1880) that us newcomers knew the country belonged to the first inhabitants and it was absolutely wrong, and to our shame, that we stole their land without fair compensation.
King William IV Letters Patent read on Proclamation Day in South Australia guaranteed that"
Nothing in the Letters Patent contained shall affect or be construed to affect the rights of any Natives of the said Province to the actual occupation or enjoyment in their own Persons or in the Persons of their Descendants of any Lands therein now actually occupied or enjoyed by such Natives.
Letters Patent promulgated in the British Parliament in 1834
In 1835 a pioneer grazier and explorer, John Batman used a treaty to buy land around Port Phillip Bay (present-day Melbourne) directly from the First Nation inhabitants.
Julian Tenison Woods, co-Founder of our Congregation, wrote to the Sunday Mail in 1880:
Some will say that we ought not to have come to a country which was not ours, and molest the peaceful inhabitants and rightful owners.
Sydney Mail 17 July 1880 p 102
Please continue reading below:
Please read the entire article here (PDF)
Kenise Neill rsj