October 5, 2023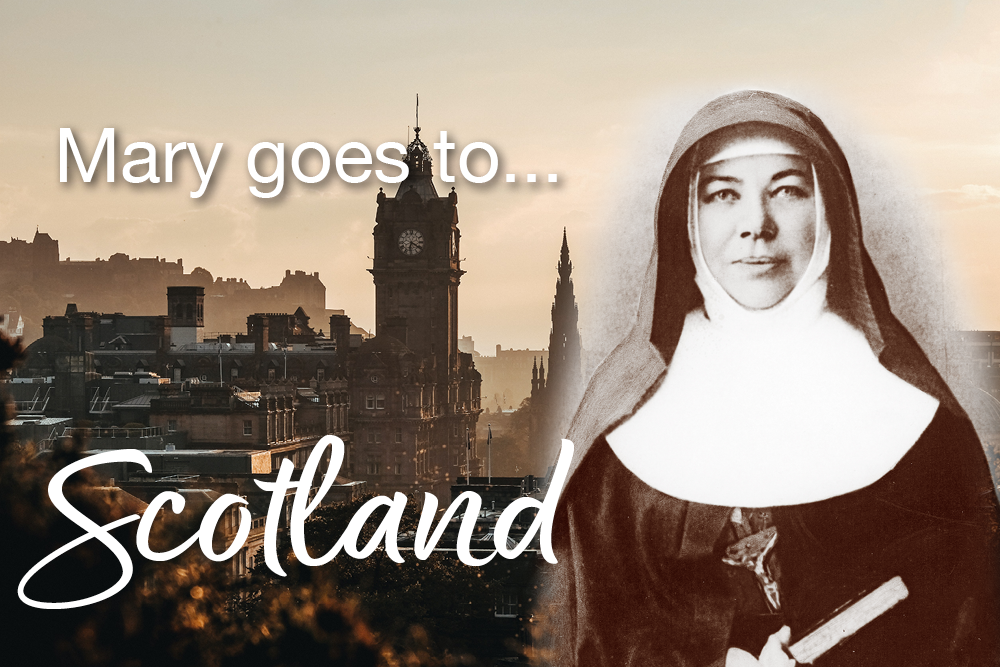 To celebrate 150 years since Mary MacKillop embarked on her first overseas journey (March 1873 – December 1874), the Sisters of Saint Joseph share reflections and details from Mary's travels to and from Europe – sourced from Mary's letters and Congregational Archives.
When Mary MacKillop went to Rome to seek Papal approval for the Congregation of the Sisters of Saint Joseph, she also spent time in the United Kingdom. During her stay there, the idea was mooted that she should visit Scotland – the homeland of her parents and many Scottish relatives and friends now resident in Australia. Mary, however, felt that her emotional link to Scotland was not sufficient reason for her to go there.
She would think of going only if Scotland held some promise of providing postulants for the Institute and priests for Adelaide, or if she might expect Scottish friends to offer financial and spiritual support.
It was because of the advice from two priests whom she trusted that Mary finally accepted the invitation of Mrs Laura Vaughan to go with her to Scotland in October 1873.
---
Places visited by Mary MacKillop in Scotland: October 1873 – February 1874
Glasgow: Stayed with Franciscan Sisters in Charlotte St. Convent – no longer there.
Oban: Went from here by Steamer to Tobermory on Isle of Mull, and from there by another boat to Ardnumurchan Peninsula to stay with Lady Gordon for two weeks. On return, Mary went by steam to Fort William via Caledonian Canal.
Places in Fort William:

Ben Nevis Bar/Jacobite Bar in the High St. This is the birthplace of Mary's mother, Flora MacDonald who, with her parents and brothers, came to Melbourne in 1840.
The original Catholic Church just down from the Nevis Bar and back from the road on High St – now used as HQ for Highland & Island Enterprises.
Present Catholic Church – St Mary's. Has shrine of St Mary dedicated to the memory of her mother, Flora.
The Bedford Hospital next to St Mary's Church. Built on the site of the former Invernevis House where Mary stayed with her cousin Donald Peter MacDonald and his wife Jessie nee Carmichael. The Church, the hospital and the former Catholic school all next to each other were built on land bequeathed by the MacDonald family.
The former Distillery, now apartments with original façade of one of the 4 distilleries owned by 'Long John MacDonald'. The only one still in use is on the right where the Road to the Isles begins.

Roy Bridge Area:

St Margaret's Church – Mary stayed here and experienced wonderful kindness and hospitality from Parish Priest, Fr MacDougall who took her around the district for the purpose of begging for her needs.
Keppock House where she met with an old friend of her mother who remembered how she and Flora, as young girls, attended dances together. This house is visible through the trees opposite the Roy Bridge village.
Cille Choirill – 15th century Catholic cemetery which was badly damaged at the time of the Reformation but restored in 1930s and later. Much of the money for this was provided by Scottish migrants who had relocated to Nova Scotia (New Scotland) at the time of the Clearances when poor Scots were forced from the land by the English. Many of Mary's relatives are buried in Cille Choirill.
Murlaggan along the road to Perth just past Cille Choirill are the remains of the home of Alexander MacKillop's grandparents. This is clearly visible from just outside the chapel at Cille Choirill. It's the area where Alexander was born in 1812. The ruined remains are used as a storage place for the resident farmer.
The road past St Margaret's church leads up to Buhuntin and Cranachan and Glen Roy – the ancestral area of the MacDonalds. Along the road is a Mass stone where an itinerant priest would say Mass in hiding during persecution times. Just below this spot can be seen the home which Mary visited with Fr MacDougall. The occupants were MacDonald cousins of Mary whom she described as "five wonderful, eccentric Highlanders, all brothers and none married".

Inverness: St Mary's Church in Huntly St which runs along the river just beore going over the bridge in the town centre. A convent was along this street near the church and Mary stayed there with the Franciscan Sisters who have long left Inverness. Around the time of the canonisation, the then Parish Priest put a stained-glass window of St Mary, done by a Polish artist, in the Church.
Nairn: St Mary's Church is on the main road as you enter the town just before you get to the shopping area. Mary stayed there in the building with adjoins the main church building. At that time, it was the Chapel House (Presbytery) and the room where she slept is now used as a parish meeting room and for teaching catechetics to the local children. When Sr Therese and I were stationed in Fort William we visited Nairn many times and used this room to run retreat days for the parishioners and Josephite Companions (formerly) Associates.
Keith: Mary was forced to stay overnight in the waiting room at the railway station here. There was a mix up re the train times as she was travelling from Nairn to Aberdeen and the train stopped overnight at Keith, so a kind gentleman came to her aid and saw to it that the Station Master made her comfortable for the night.
Aberdeen: Mary met with Bishop MacDonald and stayed with the Franciscan Sisters and mentioned that she also "had occasion to see some nuns of another Order who were also there and had care of a large orphanage". None of these are there now.
Edinburgh:

Mary arrived in Edinburgh on 18 December 1873 and spent a month there staying with Mrs Carmichael, the mother of Jessie MacDonald, wife of her cousin with whom she stayed in Fort William. She was kindly received by the Bishop who was a friend of her father's possibly from seminary days. He gave her much sound advice and encouraged her in her vision for our Congregation. He introduced her to Fr Rigg who took her to visit several schools run by various Religious Orders. She regularly attended Mass at the Cathedral.
While in Edinburgh, Mary took the opportunity to travel to Alloa to see her uncle Archie MacKillop, her father's brother. When the MacKillop family migrated to Australia, Archie remained in Scotland. He was married to Helen MacGregor, a Presbyterian whose religion he embraced. Presbyterianism is the state religion of Scotland by Act of Parliament. Archie had a government position as a Customs and Excise man so probably would not have been able to keep that position as a Catholic. Mary wrote very affectionately of him and she became good friends with his daughters, her cousins who cajoled their father for not supporting Mary financially. For him to do so would be regarded as supporting the Catholic Church which, as a Presbyterian, he could not do.
During her stay in Edinburgh, Mary suffered a severe bout of loneliness. She had received some generous gifts from people to take back to Australia for the fete she would run to raise funds, but from the wealthier people she experienced coldness and refusals to help. Tired and lonely, and probably unwell, she wrote of how one night she couldn't even say her usual rosary but cried herself to sleep. But all in all, her time in Edinburgh was a rewarding experience.

On 17 January 1874, Mary left Glasgow and returned to London.
Sr Audrey Thomson shares a PowerPoint presentation on Mary MacKillop's travels in Scotland here.