March 30, 2021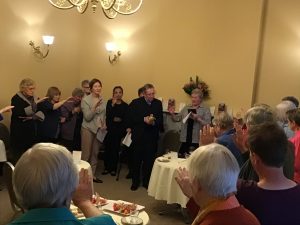 Many Sisters and Staff gathered in the Conference Room at the Mary MacKillop Heritage Centre on 3 March to thank and farewell their devoted CEO of 15 years, Garry McLean.
The guests enjoyed drinks and canapes and time to mingle prior to the formal message of acknowledgement and farewell from Sr Anne Tuck, read by Receptionist Kate Warlond in Anne's absence.
Over the past 15 years Garry has been the passionate guardian of the story of Mary Mackillop and Julian Tenison Woods and has facilitated the spread of that story across Victoria and beyond.
Anne spoke of Garry's respect, dedication, and total giving of himself, ensuring the vision and objectives for the Centre became the foundation stone for the future.
Gary began in 2005, while Anne was Provincial of Victoria, after it became necessary to advertise for a CEO of the new Josephite project – the Mary MacKillop Heritage Centre.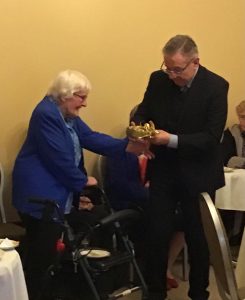 The CEO was required to work with the Planning Committee, builders, Heritage Victoria and the Sisters.
Anmaree Iaccarino, Education Co-ordinator, spoke of Garry as one who had shared our times of sadness and joy, and genuinely cared for our welfare.
Sister Sue McGuinness, our Victoria-Tasmania Regional Leader, spoke of meeting Garry in Sydney the year before the Heritage Centre was officially opened.
While Sue was in Penola Garry and some of the staff visited as pilgrims to become more immersed in the spirit of the beginnings of our Congregation.
Sr Bernadine Guinane presented Garry with a statue of St Joseph by sculptor Leopoldine Mimovich, and a crystal plaque.
Part of the wording on the plaque was:
A time to look back with admiration…
A time to look forward with anticipation.
Sue concluded by quoting Mary MacKillop's words:
In Joseph's care [we] leave you. (25.03.1873)
The farewell speeches from Sr Anne Tuck and Anmaree Iaccarino may be read by clicking the links below.
Farewell to Garry – Anmaree Iaccarino
Farewell to Garry – Sr Anne Tuck
Betty O'Donnell rsj