November 19, 2019
Last weekend, refugee supporters held rallies around Australia to urge the Government not to overturn the Medevac legislation, which enables refugees in Papua New Guinea (PNG) or Nauru to be brought to Australia for urgent medical treatment.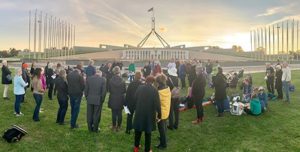 The rallies culminated in an all-night vigil outside Parliament House in Canberra on Sunday night (10 November). I was privileged to be part of this vigil, organised by Rural Australians for Refugees (RaR), together with rural Australians, other religious, and representatives from a number of faith traditions.
Bishop Vincent Long opened the vigil, speaking of his visit to PNG last week and the terrible conditions under which the refugees are suffering. He contrasted this situation with the welcome that was accorded him and many thousands of Vietnamese refugees who came to Australia as boat people. His concern with the change of culture in this country, and the apathy towards some of the most vulnerable people in our world, was echoed by the Catholic Bishops Conference in PNG, where their spokesman, Fr Licini, said bluntly:
Telling these people to start a life in PNG, well you will kill them. If Australia intends to kill that way – 200 people – well, you will take historic responsibility.
RaR president, Louise Redmond, Senator Kristina Keneally, and former independent Cathy McGowan all spoke passionately of the cruelty being suffered by these refugees, calling on the Government, and indeed all Australians, to return to a culture of a fair go, justice and compassion. "To sleep out here in the cold and damp is our small way of saying we as Australians do not accept this," Ms Redmond said .
The goodness and concern of those participating was palpable. It is clear they are part of a growing movement of concern around the country. It was a privilege to be part of the experience. We continue to hope and pray that their passion and commitment will touch the hearts and minds of Senate members as they meet this week.
Jan Barnett rsj