June 29, 2019
Mary, Patron of the Brisbane Archdiocese.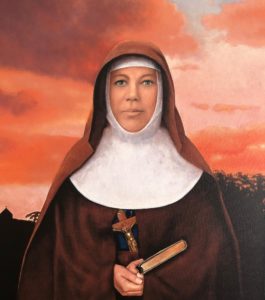 Mosquito plague, high humidity and heat greeted Mary MacKillop and her Sisters when they arrived in Brisbane on New Year's Eve 1869 – just three and half years after the foundation of the Congregation in Penola. What warrior women they were, with hearts set on fire for God's mission.  Little did they know what indescribable challenge and pain Queensland would be for Mary and the Congregation.
Mary and the Sisters had been invited by Bishop Quinn to set up schools in Queensland, so they came well equipped with the proven Woods-MacKillop system of parish-based schools. They immediately hopped in, opened schools in Brisbane and very quickly expanded their presence to other places in country Queensland.
The story of the journey between 1869 and when the Archbishop John Bathersby petitioned Rome to make Mary MacKillop the Patron of the Archdiocese is told here.
Pope Benedict XVI on May 6, 2009, assented to the petition and Mary officially became Patron of the Archdiocese of Brisbane.
So what does being a patron mean?  It can be everything from individual, personal devotion, to Mary being a protector of everyone and everything in the Archdiocese.  If we consider Mary as Patron, we need to reflect on this from both an inward and outward perspective.  It requires both movements as that is the call of the gospel.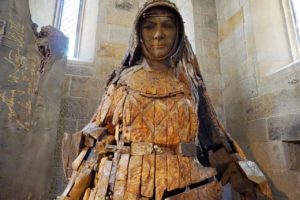 Inwardly we can be encouraged, nourished and supported by Mary. An example would be to take oneself to the Shrine of Saint Mary MacKillop in St Stephen's Chapel. Mary prayed and worshipped here and it is now a sacred place that provides solace and nurture for thousands of people each year.  Inside the chapel is a very different and enticing statue of Mary, sculptured by John Elliott, etched out of the stump of a huge camphor laurel tree. If one sits long enough with this image of Mary, it can speak so clearly and take one into the very essence of this woman of God.
The heart of what Mary and her Sisters were on about when they came to Queensland is expressed in the Sisters' Constitution: 'by making education of poor children the Sisters' prime task.' (Constitution of the Sisters of Saint Joseph 1.).  This motivation takes us to the outward focus of Mary being Patron.  The Archdiocese provides an opportunity for everyone to give expression to Mary's spirit by supporting the MacKillop Catholic School Access Fund (MacKillop Fund).  This fund provides access to Catholic education for students from families experiencing significant financial hardship. Beyond providing for the individual child, it also provides school communities the opportunity to contribute by providing the uniforms, shoes, text books, tuition fees, etc.
No doubt Mary is happy to be Patron of the Archdiocese of Brisbane when she can see clearly, that in this day and age, people are faithful to Jesus' invitation 'that all may have life and have it to the full." (Jn 10:10).
Annette Arnold rsj
Find out more about the MacKillop Scholarship here
Photos provided by Sr Jane Maisey and Sr Annette Arnold. Used with permission.