August 8, 2019
Help give 200 children in Fiji the tools to learn!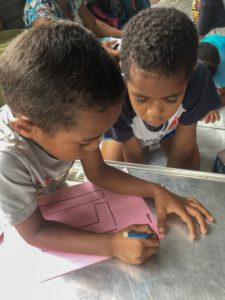 Mary MacKillop Today has partnered with Child Benefit to support the Mobile Kindy program in Fiji.
Our aim is to provide access to high quality and inclusive early childhood education in the informal settlements around Suva. Mary MacKillop Today is launching a crowdfunding campaign on 8 August with the hope of raising $15,000 which will provide 200 children with the tools to learn.
Just:
$10 will give one child a hygiene kit,
$25 will give 30 children nutritional lunches for 1 week and
only $48 will give one child an educational resource kit.
Join us in honouring Mary MacKillop's legacy and passion for education by sharing and pledging to our campaign:
Donate to the Mary MacKillop Today Crowdfunding Campaign
For more information visit our Fiji projects and the Facebook page for the Mobile Kindy.
Thank you!