July 4, 2019
"Mount St. Joseph Girls' College (MSJ) breathes life into contemporary learning, inspires girls to strive to fulfil their goals and celebrates their many talents."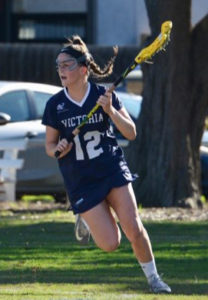 Here are a couple of examples of past students' achievements:
Kelly and Lacrosse: Former MSJ student, Steph Kelly (MSJ College Sports Captain 2016) is living her dream and goal of playing lacrosse at the highest level. Steph played in the National Lacrosse Championships over the June long weekend for the victorious Senior Victorian Women's Team. Victoria defeated South Australia 16-5. Steph was the top scorer in the championship.
Steph is currently on a break from her lacrosse scholarship at Saint Joseph's University in Philadelphia USA. In Steph's own words:
I have been studying and playing division 1 Lacrosse in the United States, at Saint Joseph's University in Philadelphia, for almost two years now and I am continuing to love every minute of it. Although I do miss Australia and my family and friends, I am so happy I made the move across the world because I have learnt so much about myself and what I am capable of. It was also comforting leaving MSJ knowing I was going to another Josephite school, because I knew there would be familiarity between the schools, and there definitely is. Once a Joey always a Joey!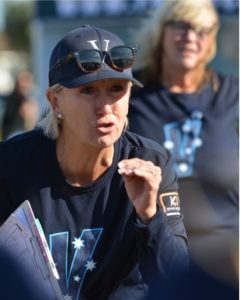 Sue Safornos, Sports Coordinator: Supporting Steph to achieve her goals is MSJ's sports coordinator, Sue Sofarnos. Sue has mentored Steph since she was a student at MSJ and as Steph's coach in the Under 15 Victorian team in 2012-2013. Sue coached Steph to victory in the Senior Victorian Women's team. Following in the family tradition, Sue's daughter Hayley also played in the recent National Championship, being named Most Valuable Player. Sue has  just been named as coach for the All Australian Lacrosse Team.
Trudi Camilleri – West End Star: Former MSJ student Trudy Camilleri is now starring in the London West End Theatre production of Queen of the Mist. Trudi is an amazing lady. On 16 August 1993, whilst at MSJ, Trudy was dragged under a bus and had both her legs crushed. She recovered and came back the following year to complete her Victorian Certificate of Education. Trudi went on to study at the Melbourne Conservatorium and even came back to MSJ to teach singing for a while.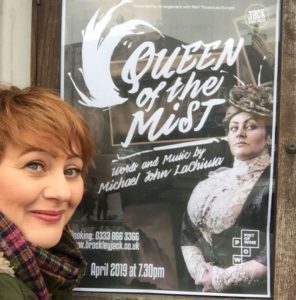 Trudi has been living in London for the past 15 years and became involved in Musical theatre about five years ago. Queen of the Mist is a role that was written specifically for her. She is currently in the recording studio recording the cast soundtrack.
We take pride in these former students and congratulate them on their success.
Nicole Magee,
Marketing & Communications Officer
Mount St. Joseph Girls' College, Altona West, Victoria
Footnote: Heading quote sourced from the MSJ Website
Photos supplied by Mount St Joseph college. Used with permission.