July 6, 2020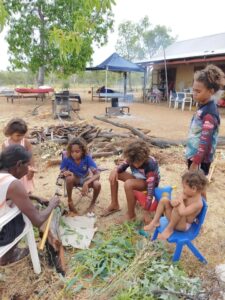 NAIDOC Week celebrations are held across Australia every July with many events to acknowledge Indigenous history, culture, and achievements.
However, due to COVID-19, NAIDOC week was postponed for 2020. Or did it come earlier?
This year's theme for NAIDOC week is Always Was, Always Will Be. It recognises that First Nations people occupied and cared for the Australian continent for over 65,000 years. They were the first explorers, farmers, botanists, scientists, diplomats etc. This is something Bruce Pascoes' award winning  book 'Dark Emu,' has honoured and affirmed. In a TED talk he says, "I wrote the book to convince Australians that Aboriginal people were farming on their own land."
Over many years, reading, listening to others and occasionally meeting an indigenous person contributed to raising my awareness of indigenous peoples. However, seven years ago, I moved to Warmun – a remote Aboriginal Community in the Kimberley. As stations in the surrounding areas were claimed by white settlers, the traditional owners were moved off their land to live together in Warmun. For me, to be part of this community, moved my awareness of Indigenous culture to another level…. a place where I saw firsthand and  began to understand the deep spiritual and cultural connection to country. Country encompasses an interdependent relationship between an individual and their ancestral lands. When people talk about country it is spoken of as a mother, i.e. we speak to country, we worry about country, and we long for country.
'This is my country and that's why we stay out here'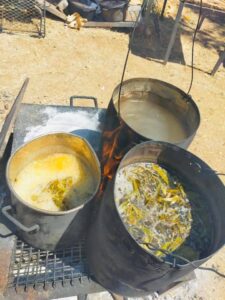 During the early days of the COVID-19 epidemic, people were encouraged to return to their homes. It was no surprise that Indigenous people returned to their homelands to wait out Coronavirus. Shirley Purdie, an elder of the Warmun Community said:
We did good out there. We had all the bush medicine that we use, the smoking ceremony, our stories, prayers, hunting wallabies and other bush foods. This is my country and that's why we stayed out there.
Shirley was born at Mabel Downs or Gibun in her language. There are two houses, but most prefer to drag their mattresses outside and sleep under the stars.
To understand more, view Shirley's remarkable story
"The benefits of being on country are tangible – spiritually, culturally and physically!"
Shirley's daughter, Madeleine, posted on facebook …
We have been engaging in healing activities, language, cooking and, bush medicine like lemongrass – a tonic to fight against cold symptoms. We took the girls to visit the Kangaroo Rock Ngarranggarni (dreaming) site. They asked the rock for a fat kangaroo, which was later produced by the women who went hunting! They cooked a beautiful kangaroo stew for dinner. The benefits of being on country are tangible – spiritually, culturally, and physically!
The families' bush camps included the Easter weekend. I can only imagine in being back on their land, they were transformed, like Jesus, to New Life. It was not a holiday with family. It was more. It was a spiritual experience of connection to land. It was an unofficial NAIDOC week on their land …. Always was, and Always will be.