August 31, 2021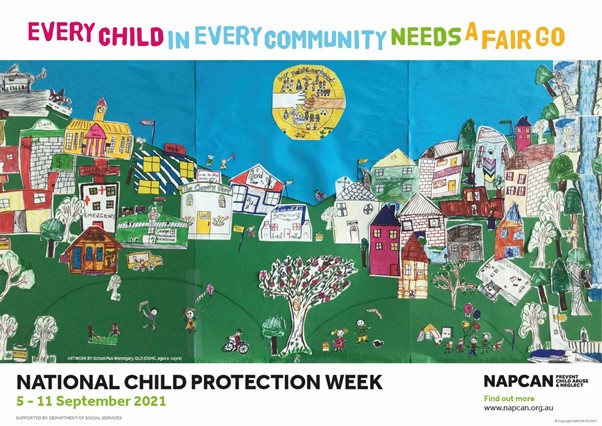 National Child Protection Week is facilitated by The National Association for Prevention of Child Abuse and Neglect (NAPCAN) each year as a means to create awareness and prevention and aims to bring abuse and neglect out of the shadows and put child wellbeing on the national agenda.
NAPCAN was co-founded in 1987 when the issue of child abuse and neglect was a taboo topic. NAPCAN's purpose is to bring an awareness of child abuse and neglect and create safer communities for children.
Protecting children from abuse is a whole of community responsibility.

The NAPCAN theme in 2021 for National Child Protection Week is adeptly titled, "Every child, in every community, needs a fair go".
This theme is all about the importance of the "bigger picture" in addressing child abuse and neglect.
Children can thrive and be healthy when they have what they need to develop well, however not every family has these resources. It is our collective responsibility as individuals, professionals, volunteers, and members of the community, to do what we can to support every child and family according to their needs.
The Sisters of Saint Joseph's theme from the 2019 General Chapter "Bring Me What You Have". This theme works beautifully with the NAPCAN messages of community working together for the protection of children and vulnerable persons.
Research shows that one of the best ways to prevent child abuse and neglect, before it starts, is by building child friendly communities that support and value children and families.
The theme of "Every child, in every community, needs a fair go", is based on the framing research of the "Core Story for Early Childhood Development and Learning". This research informs us that the environments in which children grow and learn, have a significant effect on children's brain development, physical health, resilience, and long-term outcomes.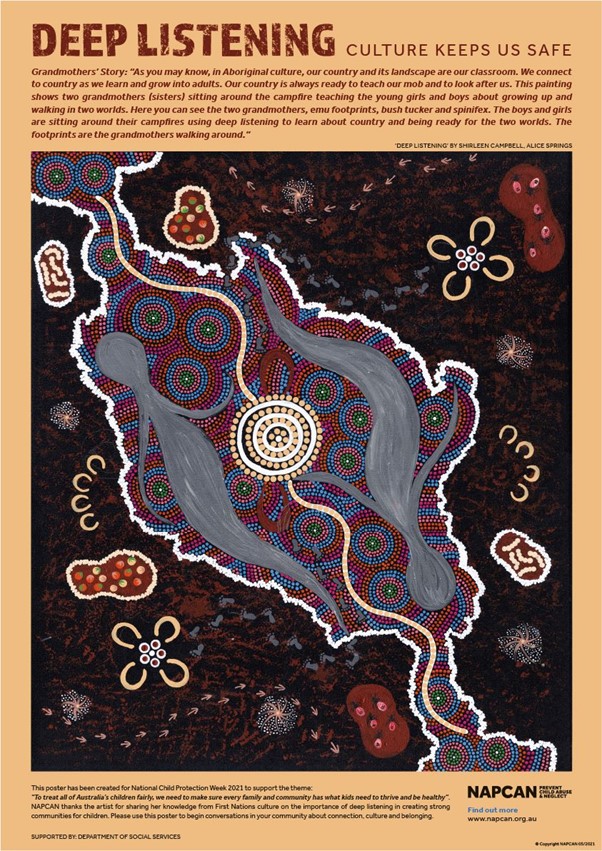 This "Deep Listening" poster is just one of NAPCAN's themed posters for the 2021 campaign. NAPCAN have a range of resources and events planned to celebrate National Child Protection Week, and these can be accessed on their website or by clicking here.
NAPCAN have a week-long series of free webinars during National Child Protection Week. The webinars are based around the 2021 theme of "Every child, in every community, needs a fair go". To treat all of Australia's children fairly, we need to make sure every family and community has what kids need to thrive and be healthy.
The keynote speakers for the opening launch of this special week are the National Children's Commissioner, Ms Anne Hollands, and the Governor General, His Excellency General the Honourable David Hurley AC DSC (Retd). It will be a privilege to hear their insights during this webinar and you are encouraged to register for this event which is scheduled on Monday 6 September 2021, 10am – 10:30am. You can register for this opening launch, and any of the other webinars throughout the week, by clicking here.
The Australian Catholic Church observes Child Protection Sunday on the second Sunday in September each year. Child Protection Sunday coincides with National Child Protection Week and falls on Sunday 12 September 2021.
Child Protection Sunday seeks to acknowledge the immense damage caused by the sexual abuse of children by priests, religious and lay people within Catholic contexts. It makes a commitment to the practices and protocols that create and maintain safe environments for all people, especially children and other people who are at risk. It invites people to pray for those harmed by abuse, directly and indirectly.
SOSJ are actively committed to fostering communities and a culture of safeguarding that recognises and upholds the dignity and rights of all children. SOSJ have developed a Child Safeguarding Commitment Statement to reflect and honour this commitment to child safety and respect. We invite you to read more about our Child Commitment Statement by visiting our website or clicking here.

Bravehearts is Australia's leading child protection charity dedicated to holistically preventing child sexual assault and exploitation.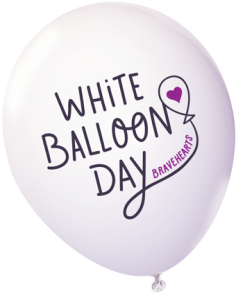 Bravehearts' vision is to make Australia the safest place in the world to raise a child. In 1996, Bravehearts established White Balloon Day, aimed to raise awareness about child sexual assault in Australia and help empower survivors to break their silence. White Balloon Day is held annually on the first Friday during National Child Protection Week and shall be celebrated this year on Friday 10 September.
Join us in making Australia safer for our children by supporting White Balloon Day on Friday 10th September and wearing the colour white. You may choose to hold a morning tea within your workplace, your community or with your family and friends, and raise awareness to this important topic. You may choose to fundraise and collect a gold coin donation by signing up at whiteballoonday.com.au. Everyone who signs up will receive a free support pack. You can learn more about Bravehearts and donate by clicking here.
CHILDREN'S WEEK: 23 OCTOBER – 31 OCTOBER 2021
Children's Week is a national celebration of children and young people and focuses the attention of the wider community on children, their rights and achievements as well as acknowledging the right of children to enjoy childhood.
Australia recognises and celebrates Children's Week on the fourth Wednesday of October, which coincides with Universal Children's Day. Each year the theme of Children's Week highlights a particular Children's Right (United Nations Convention on the Rights of the Child).
The Theme for 2021 is Article 15 – "Children have the right to choose their own friends and safely connect with others."
You can click here to find out more about Children's Week and what is happening in your State or Territory to celebrate this week long event.