November 25, 2021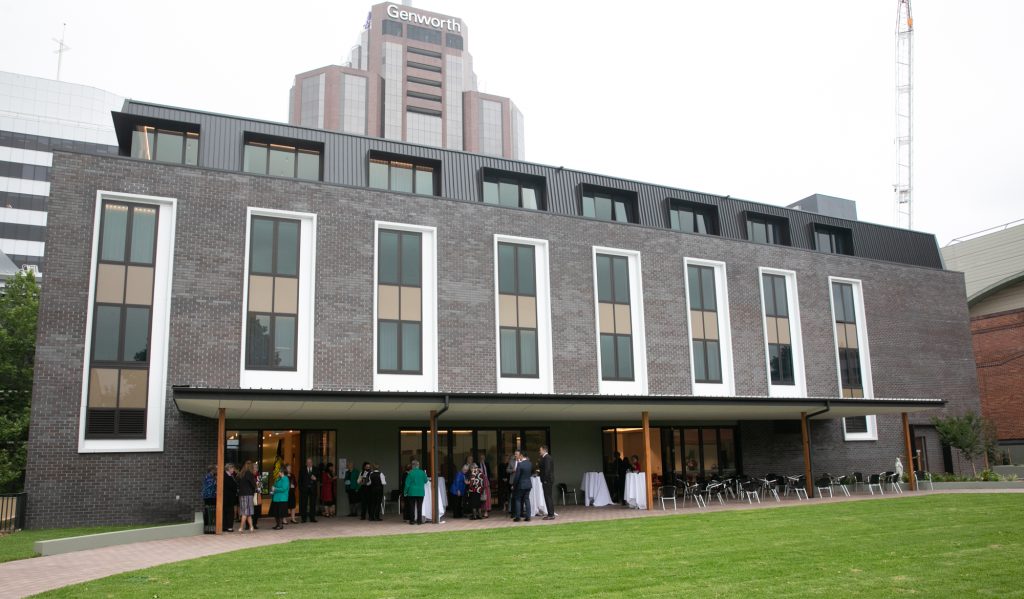 Officially opening on 11 November, was the new Anderledy Lodge at Mary MacKillop Place, North Sydney.
This project began in December 2016, with the Development Application finally approved in May 2019 and the building contract signed in February 2020. Not long after, COVID-19 made its presence felt and had an impact on the progress of the building, especially this year. The completion on 4 November 2021 marked another milestone in the history of Mary MacKillop Place.
This new Lodge and the renewed Glen Roy Green, provides a space inviting our pilgrims and guests to rest a while and enjoy the oasis of peace and serenity in the midst of the North Sydney business district.
The NSW Governor, the Honourable Margaret Beazley AC QC, opened the building and in her address, she referred to the sacredness of the site which will continue to offer the same hospitality that Mary MacKillop received from Fr Anton Anderledy when she was in Rome in 1873.
Congregational Leader, Sr Monica Cavanagh, in her address reinforced the fact that it was Fr Anderledy who 'gave (Mary MacKillop) confidence and understanding to exercise her own authority and leadership on returning to Australia after her time in Rome.'
Mary in a letter to the Sisters referred to Fr Anderledy's kindness:
Fr Anderledy has been most untiring in anything he could do for us. He is a second Fr Tappeiner, so I need not say more to give you to understand his kindness and goodness.

May this Lodge, named after Fr Anderledy, reflect that same kindness and goodness to all those who stay.
Mary MacKillop Place is a place of pilgrimage and a place of welcome, encounter and journey. The new Anderledy Lodge and Glen Roy Green, along with the Chapel, Museum, Café & Gift Shop, the Temuka Apartments and the Conference and Event facilities, all combine to offer hospitality that nurtures, renews, heals and strengthens.
Accommodation booking enquiries can be made via one of the following:
Visit the Mary MacKillop Place website to find out more about Anderledy Lodge here.
Colleen Keeble rsj
Director Mary MacKillop Place