May 2, 2019
Another huge Palm Sunday, standing with refugees.
Thousands of people across Australia marked Palm Sunday on 14 April with rallies and demonstrations in support of refugees and asylum seekers, and calling for an end to offshore detention. Over 1000 people gathered in Sydney, and over 5000 in Melbourne. Significant numbers of people attended other centres, including Adelaide, Alice Springs, Armidale, Bendigo, Brisbane, Cairns, Canberra, Forster, Hobart, Launceston, Lennox Head, Newcastle, Perth, Townsville, Whyalla, Wollongong and Yass.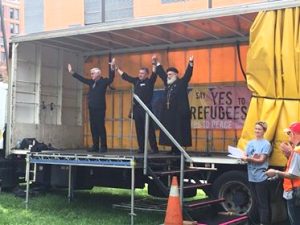 In Sydney's Belmore Park, football commentator Craig Foster reminded people that the deaths on Manus and Nauru weighed heavily on the conscience of Australia.
Reverend John Barr, Father Claude Mostowik MSC and Coptic Orthodox priest Fr Shenouda Mansour, joined together to call on the humanity of Australians to end the imprisonment of the hundreds of refugees in the Manus and Nauru prisons. Fr Claude encouraged people to keep coming to rallies, to keep agitating, despite the difficulties and indifference. Rev. Barr said our humanity depends on how we treat the poor and oppressed. Fr Shenouda reminded the crowd that the innocent victims of bureaucracy are not numbers, but people, people like us, and we must stand with them. All speakers voiced the desire that a strong message be sent to Canberra, the message that refugees are welcome.
Unfortunately, this Palm Sunday gathering across so many Australian cities and towns did not rate a mention on the ABC (Australian Broadcasting Corporation) News that night, 14 April. What did feature was a festive march through the streets of Cobar NSW by a couple of dozen citizens, applauded by friends and supporters, (an event not connected to refugees). In response to a complaint, the ABC stated that editors must "take into account the relative newsworthiness of different stories and the resources required to report them." The complainant was assured that the absence of an item did not reflect on its "newsworthiness", and was referred to an online resource for news on asylum seekers.
Thus the government's prevention of news-gathering on Manus and Nauru, is accompanied by the silence of the national broadcaster. Choosing to broadcast a minor festivity in a small country town in preference to an event involving many thousands of people denouncing government policy is an indication of the success of the attacks on the ABC by government and certain powerful media outlets.
The conscience of Australians must continue to be stirred. People must join together to end the scapegoating of refugees. We must keep writing letters, going to rallies and talking with family and friends, because our humanity depends on it.
Susan Connelly rsj
April 2019
Photo provided by Susan Connelly rsj. Used with permission.