February 10, 2020
The Penola community was delighted to receive news that our local historian, Margaret Muller, was selected by the Wattle Range Council as Penola's Australia Day Citizen of the Year for 2020.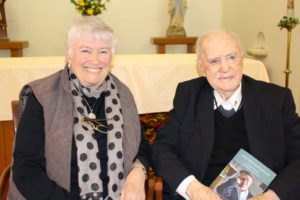 Margaret was presented with this prestigious award at our recent Australia Day Awards ceremony in Penola.
Margaret was acknowledged as Citizen of the Year in recognition of her outstanding voluntary service to the Penola community in a wide range of areas. Included among these areas of service are Margaret's long years of commitment to the Mary MacKillop Penola Centre where her contribution continues to be both invaluable and highly valued. Since the establishment of the Centre, Margaret has been heavily involved in research, writing material for exhibitions and offering hospitality to literally hundreds of visitors in a variety of ways. For many years she has conducted town tours around Penola and her obvious passion for poetry and history adds a unique dimension for tourists and pilgrims alike. Among her finest achievements is her published record of the life of Father Paul Gardiner SJ, "A Long Journey."
In her acceptance address, Margaret spoke of other outstanding citizens who made significant contributions to nineteenth century Penola. Among these were Alexander Cameron who established Penola as a private township, three eminent poets – Adam Lindsay Gordon, Will Ogilvie and John Shaw Neilson, and our co-founders, Julian Tenison Woods and Mary MacKillop. To this impressive list Margaret added the twentieth century Penola-born polar explorer, John Riddoch Rymill whose Antarctic expedition remains a remarkable international achievement.
Margaret believes the key to the beauty and charm of Penola is its historical and cultural heritage which is so faithfully safeguarded by its residents. She acknowledged the high level of involvement of the town dwellers and members of the wider community which enriches the town in unique ways and makes it a special place.
It is Margaret's own modelling of generosity, consistent involvement, energy, passion and selfless service that has been recognised by others and earned her this accolade. She is a most worthy recipient.
Congratulations, Margaret! Thank you for your outstanding contribution to the Mary MacKillop Penola Centre!
Sue McGuinness rsj