June 26, 2019
10 September 1949 – 23 June 2019
Sister Anne Derwin of the New South Wales Region died peacefully on 23 June 2019 at The Mater Hospital, North Sydney, NSW.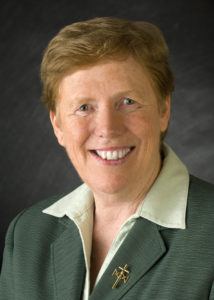 Anne, who became a Sister of Saint Joseph fifty years ago, trained as a teacher of Maths, Science and Religious Education. She taught these subjects at Saint Joseph's East Gosford, Mount Saint Joseph's, Milperra and Saint Joseph's Kogarah, before becoming principal of the Milperra school. Subsequently, she was appointed to the New South Wales Province Leadership Team. Next, she spent six years as Provincial of the NSW Province of the Sisters of Saint Joseph and, at the end of her time in that role, moved on to the directorship of Saint Joseph's Spirituality and Education Centre, Kincumber South.
She then undertook the management of Mary MacKillop Place, North Sydney. Her time there was short-lived for in the year 2007, Anne was elected Congregational Leader of the Sisters of Saint Joseph.  While she was in that role, she and the Sisters celebrated the canonisation of Saint Mary MacKillop and four Congregations of the Australian/New Zealand Federation of Sisters of Saint Joseph moved towards "fusion" with the Sisters of Saint Joseph of the Sacred Heart. Her contribution to the Congregation she treasured and to religious women and men across Australia, through her presidency of Catholic Religious Australia, impacted in significant ways on the lives of many Religious Congregations and individuals.
Her term of office expired six years ago and since then Anne used her leadership skills and expertise as chair and member of several Boards, and acted as facilitator for Religious Congregations, especially during their Chapters and similar events.  As her health declined and she became physically weaker, she maintained her passion and interest in public and current affairs.  Even up to her last days, she continued her commentary and reflections on local and world events and, as her illness progressed, her family, friends and religious sisters gathered around her to give her support and share in her wisdom.
We continue to live in gratitude for her personal and leadership gifts, her organisational skills, and her sense of prayer and the presence of her God in her life.
The Mass of Christian Burial for Anne will be held at St Mary's Church, Ridge Street, North Sydney, on Saturday 29 June at 10am and will be followed by the Rite of Committal at Macquarie Park Cemetery.  Saint Mary MacKillop's funeral Mass was celebrated in this church almost exactly 110 years ago.
Seek first the poorest, most neglected parts of God's vineyard.