August 26, 2019
The Sisters of Saint Joseph mourn the passing of the Honourable Tim Fischer's death after a long battle with cancer.
While he is remembered as a man who made a great contribution to Australian politics as the leader of the National Party and deputy Prime Minister, the sisters particularly express their gratitude to Tim for his contribution to Mary MacKillop's canonisation in Rome in 2010. The Honourable Tim Fischer was appointed as the first resident ambassador to the Holy See in 2008. Here he provided great support, especially to Sister Anne Derwin, Congregational Leader and to Sister Maria Casey in Rome, on public diplomacy and coordination aspects of the canonisation of Mary MacKillop. He saw so much of the Australian spirit in the life of Saint Mary MacKillop and was proud to be there to welcome the thousands of Australian pilgrims on this occasion. Tim sustained this friendship with the sisters beyond the canonisation experience.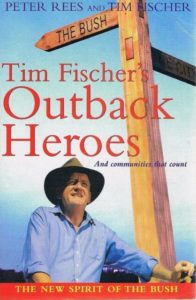 Tim had a great love for people in rural communities, a love shared by Mary MacKillop. He co-authored with Peter Rees a book titled Outback Heroes: And communities that count.
The sisters express their deepest sympathy to his wife Judy and his sons Harrison and Dominic.
May Tim rest in peace in the arms of the God who birthed him into life, and may he now share in the communion of saints with Saint Mary MacKillop.
Sr Monica Cavanagh
Congregational Leader
Sisters of Saint Joseph
Additional reading below:
ACBC Media Release: Bishops pay tribute to Tim Fischer