April 3, 2019
On Thursday evening 14 March, in the lead up to the New South Wales (NSW) Election, Sisters and students from Josephite schools joined with 2000 of Sydney's citizens and over 60 organisations in the Sydney Town Hall Assembly on Affordable Housing and Affordable and Renewable Energy in what the organisers called an incredible display of democratic power.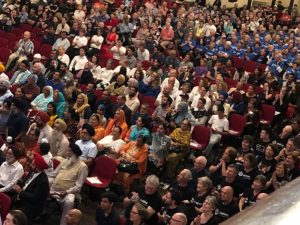 The evening was organised by Sydney Alliance, St Vincent De Paul (SVDP) NSW, and Everybody's Home, and was described as the largest and most diverse gathering ever seen in Sydney on secure, affordable housing, and affordable, renewable energy. The diversity and breadth of the civil society groups present was celebrated in a powerful roll call.
At the start of the evening we were welcomed by the Lord Mayor of Sydney, Clover Moore, before hearing moving stories from ordinary people whose lives have been severely affected by the current system of affordable housing provision, no cause rental evictions, and the effect on families of exorbitant energy costs. Speaking only for a few minutes each, their stories reflected the experience of many, mainly low-income earners, in the wider community.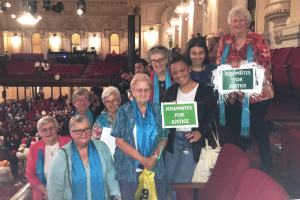 The makers of policy had a chance to respond to what they'd heard and representatives from the major parties in the Federal and State parliaments outlined what had been done in the past and what they planned for the future. They were asked to make a commitment to aims of the evening – i.e. to take concrete steps to provide more secure, affordable housing, the removal of no cause rental evictions, and the provision of clean, affordable energy.
All the politicians said they look forward to working with Sydney Alliance, SVDP NSW and Everybody's Home in achieving these goals, and the organising groups committed to working with whoever wins the upcoming state and federal elections to ensure that the right to a home and to clean and affordable energy can be shared by all.
Laraine Crowe rsj
Photos provided by Laraine Crowe rsj. Used with permission.