September 14, 2018
Commemorated on 14 September, is the Feast of the Triumph of the Cross.
On this day, the Church celebrates both the discovery and the recovery of the True Cross of Jesus Christ.
Saint Mary of the Cross MacKillop was not afraid of embracing the 'crosses' in her life. Several days after the lifting of her sentence of her excommunication, Mary wrote to her mother Flora:
The Cross is my portion – it is also my sweet rest and support. I could not be happy without my cross. I could not lay it down for all the world could give. With the cross I am happy, without it, would be lost.
Reflect on this special Feast using the poem below:
---
Mary of the Cross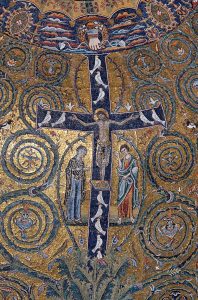 God will take care of us all.
Mary of the Cross, how apt your title!
From your earliest years you shouldered the yoke,
As you bore the burden of dysfunctional family,
Walking in faith, following Jesus.
At Alexander's knee, on Flora's lap,
You learned the immeasurable love of God.
In your life you epitomised His forgiving love,
Poured out on those who maligned you.
You learned to endure, to give of your essence;
To search out the most neglected and needy;
To depend entirely on the God who takes care of us all.
In the darkest hours of your life you believed
In His Presence, His love and compassion.
As Jesus forgave on the Cross those who tortured Him,
So too you forgave those who tortured you.
Mary, as we remember with gratitude your charism,
Of which we share some tiny aspect,
Fill us with that love for God and neighbour
Which fuelled your living.
Help us to reach out as you did
In love and compassion.
Lead us to depend entirely
On that loving God who takes care of us.
Make us aware of and bless, through us,
All that is good in our world.
Hear our prayer for all that needs redemption.
Carry with us the yoke we are invited to bear.
Draw us ever closer to our loving God.
Mary Jo Wells rsj
---
Sr Mary Jo Wells, a Sister of Saint Joseph from Perth, Western Australia, died peacefully at the end of 2017 after a short illness. She had been writing poetry for many years and produced a number of private books of poems. Sr Mary Jo's writing reflected her deep relationship with God and her call to Josephite life.
Image: Triumph of the Cross. Detail from the apsis mosaic from Basilica San Clemente in Rome, 12th century. Obtained from Wikimedia Commons. Used with permission.