September 7, 2023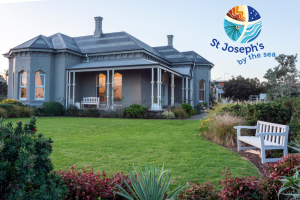 St Joseph's by the Sea in Williamstown, Victoria, is a Sisters of Saint Joseph Spirituality Centre – a gathering place for all who seek to nurture contemplation, explore and celebrate the wonders of the Universe and Earth, nourish body, mind and spirit, develop just and respectful relationships and live into new ways of being.
There is a real sense of excitement around the place… a feeling a sense of renewal and buzz. We welcome you to join us for Eco-Spirituality Week from 13 – 19 November, ending with a Day in the Garden. An event filled with blissful bites, fascinating concepts on sustainability, cosmology, wellness, reflexology and beauty.
Check out the new St Joseph's by the Sea website for more information about Eco Spirituality Week, accommodation options, conference facilities, upcoming retreats, and daily reflections.
Come stay with us for a week or a weekend of tranquillity. We have six boutique accommodation rooms that are beautifully appointed with stylish bathrooms and garden outlooks. Enjoy a peaceful getaway or book your next retreat.
St Joseph's by the Sea has four meeting rooms and breakout out areas for hire from 8:00am – 5:00pm daily. Our main meeting rooms have views of Port Phillip Bay, natural lighting, reverse cycle air conditioning, access to Wi-Fi, holding from 4 to 50 participants.
Those wishing to have a time of silence and prayer are welcome to book into this facility at a time convenient to you or attend our retreats. We have a Spiritual Directed Retreat coming up from Monday 9 – 15 October 2023.
Our Williamstown location lends itself to beautiful coastal walks and sunsets over the ocean horizon. Only 30 minutes' drive from Southern Cross Railway Station in Melbourne or a 15 minute walk from Williamstown Station.  
Everyone is welcome at St Joseph's by the Sea. Register for events or make booking enquiries through our website www.sosj.org.au/st-josephs-by-the-sea.
Ruby King
Business Manager
Sisters of Saint Joseph