June 20, 2020
As I had reflected on the Morning Prayer in the Josephite Prayer Book for Easter Sunday more than once during Easter Week, I had been struck by the artist Jesus Mafa's portrayal of Jesus and Mary Magdalene.
The touching sense of relief, astonishment, welcome and delight on Mary Magdalene's face seems to leave Jesus awed, speechless, reserved, keeping his distance. The image of a coloured Jesus reminds me of the hundreds of refugees who are longing for a welcome, someone to believe that they are worth something, that they are not frauds, that they have come through horrific ordeals.
Writing of the experience of Behrouz Boochani in Christchurch, New Zealand, Ben Doherty says:
In this city, people stop Boochani in the street to talk, they reach out to touch his arm and say "welcome". He is moved to tears.
"Here," he says, "I feel free."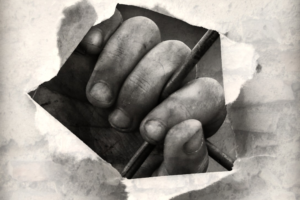 What a contrast to the bleak existence endured by Behrouz Boochani in the Manus Island Detention Centre for six years. An ethnic Kurd, from Ilam in the west of Iran, bordering Iraq, he described himself as a child of war. A graduate of two universities, with a Masters Degree in Political Science, Political Geography and Geopolitics, he was forced to flee his homeland after his journalism for the Kurdish magazine Werya, attracted the attention of Iran's ruling regime. His life was in danger.  He fled to Indonesia and then by boat to Australia. He thought Australia was a free country. 'Reporters without Borders', as well as a coalition of human rights groups, have warned that sending Boochani back to Iran would put his life in grave danger, as dissent is not tolerated by Iran's theocratic regime. He has asked repeatedly to be handed to the United Nations.
During his detention in Manus, Boochani wrote numerous articles for leading international media, notably The Guardian, The Sydney Morning Herald, The Refugee Action Committee. These articles were about the plight of refugees held on Manus Island, and he has won several awards. His memoir 'No Friend but the Mountains' published in November 2019, won the Victorian Prize for Literature and the Victorian Premier's Prize for nonfiction.  Getting the text written and out of Manus was itself an extraordinary feat.  He tapped out the script on a mobile phone in a series of single messages over time and had them translated from Persian into English by a friend, Omid Tofighian.
Behrouz Boochani is an example of survival, even triumph over dehumanising adversity. As well. he is one example of the very big contributions refugees have made and continue to make to their adopted countries. Behrouz is a gifted person who is using his gifts to advocate for asylum seekers who are still trapped in ways that deprive them of hope, condemning them to years of mental brokenness. He has become a spokesperson for the men in his compound, meeting with PNG immigration and other officials, as well as Amnesty International and UNHCR representatives. As The Guardian journalist Ben Doherty said, on accepting the Amnesty International Australia award, on Behrouz's behalf in 2017: "Behrouz rightly sees himself as a working journalist on Manus Island, whose job it is to bear witness to the injustices and the violence and the privation of offshore detention." (The Guardian 2/11/2017) [2]
"It is like a duty, a responsibility, as a citizen in my future, to care about human rights," Boochani said. "I will continue to work on this issue, because it is my life, I cannot walk away from my own life, my own experience. And Manus was my experience." (The Guardian 16/11/2019) [1]
Boochani's journey is but one example of the thousands who have made tortuous journeys to escape danger, deprivation and cruelty to find safety and a place to call home. Despite the appalling treatment, condemnations, racist rejections that have been endured along this journey, many have in the end found a community, helpful neighbours, magnanimous supporters, amazing generosity, schools that have welcomed the children. The wonderful organisations whose main work is service to refugees and asylum seekers, such as Asylum Seeker Resource Centre (ASRC), Jesuit Refugee Service (JRS), Centre for Asylum Seekers, Refugees and Detainees (CARAD), and other less known organisations and groups, do a noble task.
…I was a stranger and you made me welcome.
Margaret Keane rsj
Footnotes:
[1] Behrouz Boochani, brutalised but not beaten by Manus, says simply: 'I did my best' by Ben Doherty.
[2] Behrouz Boochani wins Amnesty International award for writing from Manus by Ben Doherty.
Image sources:
– Book cover: No Friend but the Mountain by Behrouz Boochani obtained from Amazon.com
– Child's Hand Refugee by Anja obtained from Pixabay. Used with permission.