December 9, 2019
The United Nations has declared 2019 as the International Year of Indigenous Languages. To celebrate, for each month this year, you're invited to view greetings for different languages.
To conclude the 'Year of Indigenous Languages', we feature the languages Hindi and Filipino: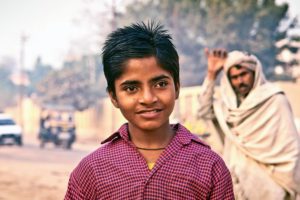 Hindi
शुभ प्रभात!
आज आप कैसे हैं?
भगवान आपका भला करे!
shubh prabhaat!
aaj aap kaise hain?
bhagavaan aapaka bhala kare!
Good Morning!
How are you today?
May God Bless you!

Filipino
Nasa Diyos ang awa, nasa tao ang gawa. – With God is mercy, with man is action. God gives mercy to those who help themselves.
Ang nagmamataas ay ibababa, at ang nagpapakumbaba ay itataas. – Humble yourselves before the Lord, and He will lift you up. (From Matthew 23:12 "For whoever exalts himself will be humbled, and whoever humbles himself will be exalted.")
Photo: Boy in India obtained from pxhere. Used with permission.