Tenth Anniversary of the Canonisation of St Mary MacKillop
Take fresh courage. Mary MacKillop 21.5.1877
Join us in Celebration!
To mark the 10th anniversary of the canonisation of Mary MacKillop, Australia's first Saint, the Sisters of Saint Joseph invite you to celebrate the wonderful life and inspirational legacy of Saint Mary of the Cross.
The theme for this celebration is "Take Fresh Courage" a quote written by Mary MacKillop on 21 May 1877. Sr Mary Cresp rsj has written a reflection on the theme and life of Mary MacKillop here.
The Sisters have created commemorative prayers, videos, and a global vigil to honour Mary throughout September and October.
Let us #TakeFreshCourage
---
Encountering St Mary MacKillop in Prayer
To celebrate the 10th canonisation anniversary, we have created a commemorative prayer booklet to inspire all to "take fresh courage" as Mary did so often throughout her life.
These prayers focus on ten significant moments in Saint Mary's life, sharing details of her personal journey, highlighting her values and spirit, and offering prayers and blessings for our modern world.
You can order your free personal/single copy of Encountering St Mary MacKillop in Prayer here.
The free booklet will be available to download at a later date.
---
Inspiring Videos
Have you ever wondered how others see St Mary today?
People from different backgrounds share their thoughts in a series of short and inspiring videos. These videos will be shared below and on the St Mary MacKillop and Sisters of Saint Joseph Facebook pages during the months of September and October, leading up to the anniversary on 17 October.
---
Save the Date – Courage Hour
16 October 2020, 8pm your local time
Join us for a global Vigil to celebrate the 10th anniversary of Mary's canonisation. This special event will be an hour of deep peace, prayer and reflection on Mary's courage. You can host your own celebration or participate online via the Sisters of Saint Joseph website. Together, we can all follow Mary's lead and #TakeFreshCourage.
---
Resources
Please find below resources you are welcome to use and download for free.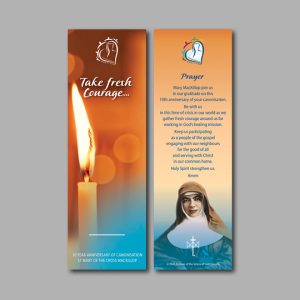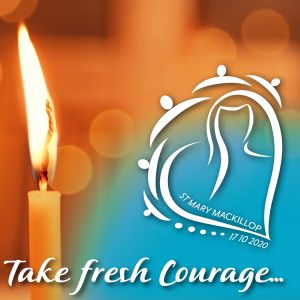 ---
Screen Graphics
Designed by Jane Maisey rsj are mobile phone wallpapers which are free to download.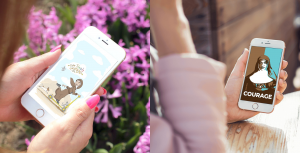 ---
Courage Prayer Card and Poster
Designed by Jane Maisey rsj are Courage prayer cards and posters that are available to purchase.