December 2, 2018
Cultivating a Contemplative Awareness
Advent is a sacred time and space which provides us with the opportunity to stand back from the busyness of our lives and become aware of who we really are. It is a small oasis of calm that enables us to reflect on the deeper questions of life.
Who am I at the core of my being?
What is the purpose of my life?
What am I called to be?
Advent enables us to cultivate a contemplative awareness that can move us forward to a new place of growth, where the invisible and visible in ourselves and in all of creation becomes interwoven and at one. It is a place where we are drawn into communion with each other, with the whole of creation and with a divine power who holds us all in being and desires to be in relationship with us.
Our lives can be filled with constant activity and excitement. We rush through our days in stress and anxiety as if we were on this earth to stay. We worry and grow anxious and we magnify trivial things until they become important enough to control our lives.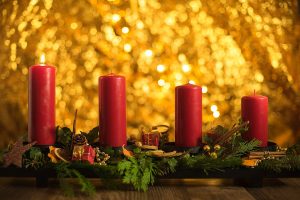 Sometimes we lose touch with ourselves so much that we don't even know we have done so, until suddenly we realise with a start that we have just being going through the motions without really experiencing our lives.
We can spend such a great deal of time looking forward, rushing into the next thing or looking backwards worrying about our perceived mistakes, that we rarely still ourselves and our minds long enough to be truly in the present moment.
A large portion of our daily activity can distract us from remembering that we are pilgrims on a journey of discovery, to whom one life is given.
Cultivating a contemplative awareness helps us to be fully awake, alert, conscious and present. It is a space where our minds become still and our hearts are awakened to the presence of God living in us and through us.
Coming into contact with our own inner stillness we begin to operate from it in our daily lives. When we respond to our problems from a place of stillness we respond with calmness and peace. Stillness allows us to accept fully the reality of what is right here and now and more importantly, to recognise God's presence at the core of everything.
Allowing ourselves to be enfolded by stillness reveals to us a most comforting truth – in all our struggles and efforts to be truly human and loving, we are always surrounded by and held in the loving shelter of God's presence. With this realisation we come to acknowledge that it is a privilege and a wonderful gift to be alive and to be here.
Gratitude then becomes the frame that holds our life.
Antoinette Dilworth rsj
Image obtained from Max Pixel. Used with permission.