June 8, 2022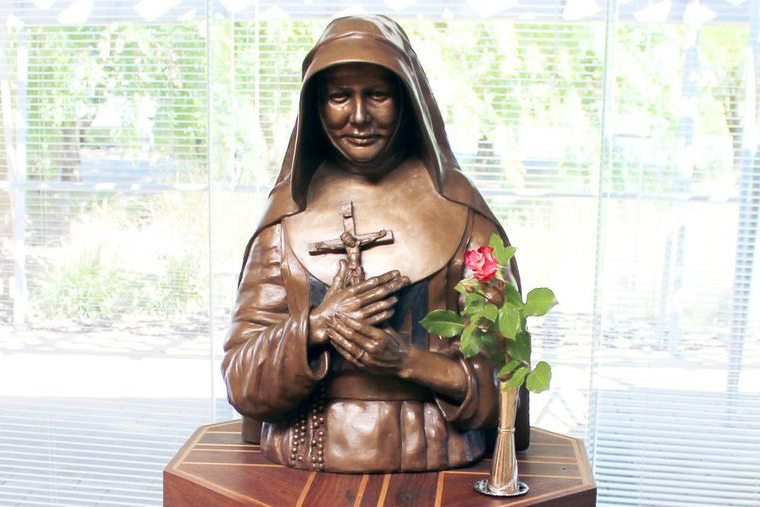 During the month of June, we have the opportunity as followers of Mary MacKillop, to recall and celebrate the great feast days of the Sacred Heart of Jesus (24 June) and St John the Baptist (25 June).
Our Josephite constitutions expresses Mary's hope that:
God's compassionate love, symbolised for Mary MacKillop by the Sacred Heart, would become a reality for her sisters and the people with whom they shared their lives.
The great Teilhard de Chardin in 1939, spoke of his devotion to the Sacred Heart:
Love lives and thrives in the heart space. It has kept me from wanting to hurt people who have hurt me. It keeps me every day from obsessive, repetitive, or compulsive head games. It can make the difference between being happy and being miserable and negative.
He goes on to say that when we pray for others, we are holding them in our heart space and that the heart space is a source of energy and cohesion – the omega. Ilia Delio mirrored Teilhard's notion by expressing the sacred heart as being the source of energy and dynamism.
Mary MacKillop demonstrated her personal devotion:
When storms rage, when persecutions or dangers threaten, I quietly creep into the deep abyss of the Sacred Heart; and securely sheltered there, my soul is in peace, though my body is tossed upon the stormy waves of a cold and selfish world.
Virginia Bourke rsj places the spotlight on the important role of John the Baptist from the founding rule of Mary MacKillop and Julian Tenison Woods. "[The sisters] shall also speak much to [the children] of devotion to the glorious Mother of God, to St Joseph and to St John the Baptist, the companions of our dear Lord's infancy, and members of the Holy Family".
The author continues, "Julian's inclusion of John within the Holy Family strengthens the point he and Mary together want to make to the first sisters about this significance of 'companioning.'" This is a lens through which we can respond to God's call and strengthen our bonds with each other.
Let us celebrate these special days in June as Mary MacKillop did, and rejoice her comforting words:
May the Sacred Heart shield and uphold you in every trouble.
Reflection
When storms rage in your life where do you go?
Who are the people whom you are holding in your heart right now? Take time now to remember.
Reflect on the value of consciously supporting companions.
Let us pray with Mary MacKillop.
Michele Shipperley rsj