December 20, 2022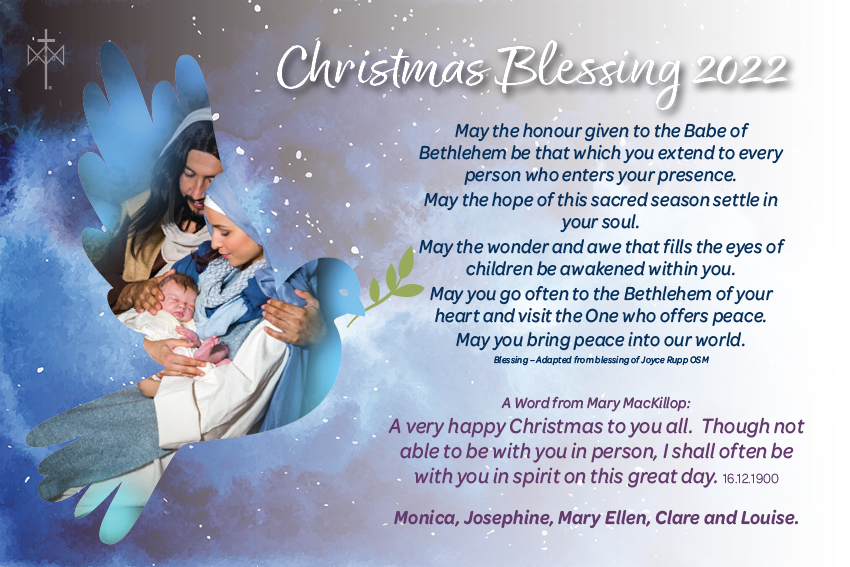 Christmas is the opportunity for each one of us to be 'presents of peace' to one another and in the wider community of our world. As we celebrate Christmas 2022, let us take time to reflect on the gift of peace, coming from the Hebrew word shalom meaning 'harmony, wholeness, completeness'.
Jesus in the gospel reminds us that this inner peace comes from being centred in God who lives and breathes life into our daily realities. Peace is the gift given to the Shepherds on that first Christmas night.
Glory to God in the highest, and on peace to people of good will.

I wonder what was stirring in their hearts as they listened to these words that caused them to move in haste to be with Mary and Joseph and the child on that first Christmas night? What is calling me this Christmas to move in haste to welcome the face of the Christ-Child in another person or situation?
As we prepare for Christmas this year, peace is the deep yearning in the hearts of those who live in places of war and violence. It is hopeful desire for families and friends as people gather this year knowing that the simple gifts of friendship, love and hope are more precious than gifts shared. It is the peace Jesus shared with his disciples – a peace the world cannot give.
May you let the peace that comes from Christ dwell in your heart as you gather at Church or at the Christmas table, or in your service of those struggling to find a home, or respite from violence and loss, and natural disasters.
Jesus came to bring a more expansive and inclusive peace. His mission was to establish the shalom of God. The God of peace and justice calls each one of us to be 'the feet of the messenger who announces peace and brings good news' (Isaiah 52:7) and 'Guides our feet into the way of peace' (Lk 1:78-79). May the familiar words of 'Let there be peace on Earth and let it begin with you' resound in your Christmas giving and receiving.
As we stand before the Christmas crib, may we send the gift of peace, love and joy to those places where people's hearts are aching and to all our loved ones.
May the stillness and peace of that first Christmas day be yours and may Christ peace reign in our world.
Sr Monica Cavanagh
Congregational Leader
View a Christmas Message video from Sr Monica Cavanagh below. Additionally, view a video message from Catholic Religious Australia (CRA) featuring Sr Monica (at 3:43) here.